ACTION CENTER | TELL GEORGIA PSC: "STOP VOGTLE!"
Tell the Georgia Public Service Commission
to stop the Vogtle boondoggle!
NOTE: THIS ACTION IS CLOSED

The marketplace for electricity has stalled for the past 10 years and the $18 billion expansion at Georgia Power's Nuclear Plant Vogtle is no longer needed. The Georgia Public Service Commission has the legal responsibility and authority to decertify the unneeded Vogtle reactors, lowering Georgia electricity costs and stopping the wasteful construction of two expensive nuclear reactors at Vogtle. Send an e-mail to the commissioners TODAY!!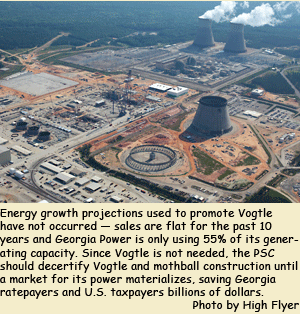 BACKGROUND The PSC is conducting its periodic Vogtle Construction Monitoring Review and hearing testimony, including from the public, about the status and cost for construction of risky, unnecessary nuclear reactors at the Vogtle site in Georgia.
Georgia Power began its pursuit of two additional nuclear reactors at Vogtle in 2005. It has secured state and federal permits and billions in public financing, through Construction Work in Progress (CWIP) nuclear taxes and free loans from the U.S. treasury.
But Georgia Power's sales have gone flat and its capacity utilization has dropped to near 50% for the past two years. The evidence shows clearly that Vogtle 3 and 4 are simply not needed. See: Georgia Power Key Financial & Operating Data
The price of renewables has fallen to historic lows and solar and wind power account for the majority of new electric build in the world. The EPA is in the process of issuing an historic law limiting carbon emissions which is driving even more change in energy policy.
This is a good stopping place for Vogtle nuclear construction. Georgia Power has spent $5 billion already, and has $15 billion in looming, possibly ballooning, expenses. Only the Georgia Public Service Commission can stop the wasteful spending on unneeded Vogtle expansion. Read, sign and send the action email below. You may edit the comments any way you wish.
Send an e-mail to the Commissioners:
"VOGTLE IS NOT NEEDED ~ DECERTIFY VOGTLE 3 & 4"
NO NUKES Y'ALL!