ACTION CENTER | TELL GEORGIA PSC: "STOP VOGTLE!"
STOP RADIOACTIVE RATE HIKES FOR VOGTLE!
Talk to the Georgia Public Service Commission

These are the guys who will vote on
Georgia Power's $1 BILLION rate hike December 21.
Please tell them what YOU think about it!
Don't leave the GEORGIA PUBLIC SERVICE COMMISSION at the mercy of Georgia Power's slick corporate attorneys. Show 'em your PEOPLE POWER and contact them TODAY by EMAIL or phone. You may use the HANDY ACTION EMAIL below to get started.
The PSC is scheduled to vote TOMORROW, December 21, on Georgia Power's request for over $1 BILLION in rate guarantees it needs in order to collect $8.3 BILLION in U.S. taxpayer loans to begin construction of risky, unnecessary nuclear reactors at the Vogtle site in Georgia.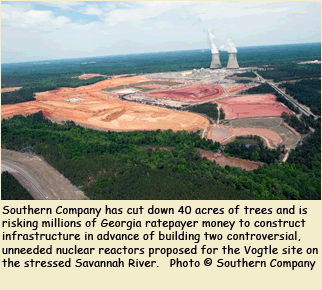 BACKGROUND Georgia Power is applying for its third rate hike this year, a whopping $1 BILLION to boost its profit margin so that it will be eligible for $8.3 BILLION in U.S. taxpayer loans to start construction on two risky, unnecessary reactors in Georgia. Besides the need to stockpile billions and billions of other people's money to pursue the two reactors at Vogtle, Georgia Power has other barriers to overcome in its quest, for instance, the still-unlicensed Westinghouse design which languishes at the Nuclear Regulatory Commission mired in expensive design problems. None of the money which Georgia Power is adding to its accounting sheets actually compels Georgia Power to finish the reactor projects, a problem which should trouble even nuclear advocates.
Kudos to SACE for maintaining legal resistance to the controversial rate hike. Sadly, GEORGIA WATCH and AARP joined retailers and industrial users to drop their lawsuits to cut a deal with Georgia Power, abandoning captive residential customers to shoulder most of the massive rate increase. The rate hike would make the average family's electric bill escalate by hundreds of dollars a year and would kick in on January 1.
IT'S TIME FOR PEOPLE POWER! TELL THESE GUYS:
"DO THE RIGHT THING ~ STOP THE RADIOACTIVE RATE HIKE!"
The breakthrough study CARBON-FREE AND NUCLEAR-FREE proves that nuclear, coal and oil are no longer needed as fuels. The newly released report OFFSHORE WIND IN THE ATLANTIC showcases the potential for offshore wind in Georgia. Georgia Power already has a monopoly on the rights. Sun and wind are being harvested and stored NOW and California has passed an ambitious energy storage standard that its utilities must meet. Georgia Power can be a world leader in the new energy revolution. It needs a nudge from the PSC to get over its decades-long nuclear obsession.
The main thing standing between you, endless expensive nuclear reactor construction and a ballooning electric bill is the Georgia Public Service Commission. Read, sign and send the action email below. Edit the comments to reflect your personal viewpoint. Having trouble making ends meet this holiday season? TELL THE PUBLIC SERVICE COMMISSION ABOUT IT! Use the handy references and links to read about VOGTLE. DON'T DELAY ~ SEND YOUR ACTION EMAIL TODAY!
COMMENT DEADLINE IS DECEMBER 21, 2010
TAKE ACTION!
EDIT AND SIGN THE LETTER ~ ADDITIONAL POINTS TO CUT AND PASTE INCLUDED BELOW
NO NUKES Y'ALL!