---
Remembering Three Mile Island, March 28, 1979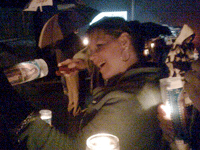 Middletown, PA 3/28/14 — Dr. Marci R. Culley, Coastal College of Georgia professor and Nuclear Watch South board member attended the annual observance of the meltdown at Three Mile Island (TMI) in Middletown, PA, near the capital city of Harrisburg. Dr. Culley annually participates in the early morning vigil at the gates of TMI.
Dr. Culley did her graduate studies at Penn State and says she was shocked to see Three Mile Island with her own eyes as she was walking to school the first day. Her masters thesis in community psychology focused on longstanding women activists from the TMI area.
In 1999, the 20th anniversary of the TMI meltdown, she committed civil disobedience saying, ''I lived within five miles of the plant for two years. I felt obligated to come back.'' Dr. Culley, who obtained her Ph.D. in community psychology at Missouri State - Kansas City, has returned to TMI every year, and this year is presenting a program at Penn State's Three Mile Island at 35 Conference entitled "TMI and Anti-Nuclear Activism."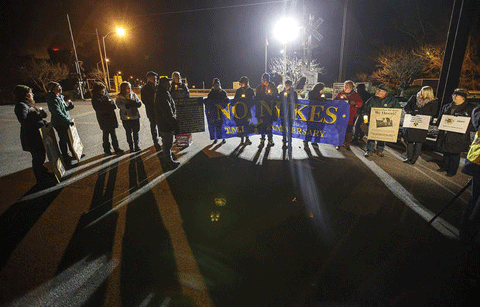 ---
Standing for the Future: FUKUSHIMA OBSERVANCE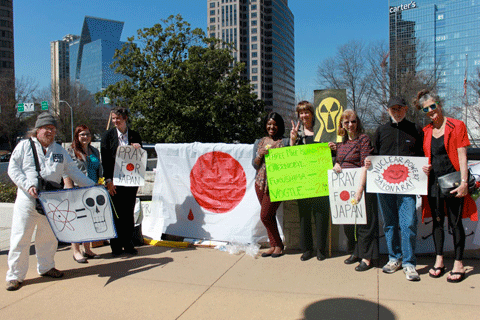 Photo ©2014 Betsy Rivard
ATLANTA 3/11/14 — Activists with Nuclear Watch South and Georgia WAND gathered by the Japanese Consulate in Atlanta to remember the Tohoku earthquake and tsunami that devastated the northern coast of Japan on March 11, 2011, killing nearly 20,000 people and touching off three nuclear meltdowns at Fukushima Dai-ichi nuclear complex. The radiological situation in Japan is still not under control and 135,000 people by official estimates are still evacuated from their ancestral homes.
---
DING DONG! the MOX is (Almost) Dead!
Energy Department Suspends MOX in 2015 Budget Request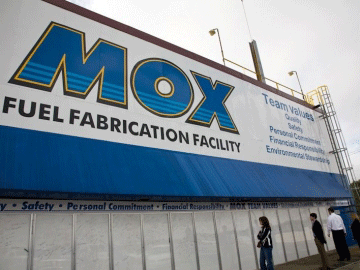 Washington, DC, 3/4/14 – Environmental and non-proliferation groups commended the Department of Energy (DOE) for planning to put the MOX Fuel Fabrication Facility at the Savannah River Site in South Carolina on "cold standby" while it determines an alternative way to dispose of surplus plutonium from nuclear weapons programs.
The MOX program would have used the plutonium to produce fuel for commercial nuclear reactors. Nuclear Watch South has long been concerned about the MOX program's significant security and safety risks, in addition to its massive cost, now estimated at $30 billion.
---
MOX Plutonium Fuel License Approval Granted
Nuclear Watch South: Questions Remain Unanswered
Atlanta, GA, 2/28/14: The Atomic Safety and Licensing Board (ASLB) of the Nuclear Regulatory Commission (NRC) issued its initial decision on the long-running MOX plutonium fuel factory operating license case on February 27, 2014. The two-page decision provides "notice regarding the issuance of initial decision." The full initial decision, because of the sensitive information it contains, is being mailed to the parties by first-class mail. The plutonium factory has been under construction at Savannah River Site (SRS) in South Carolina since 2007.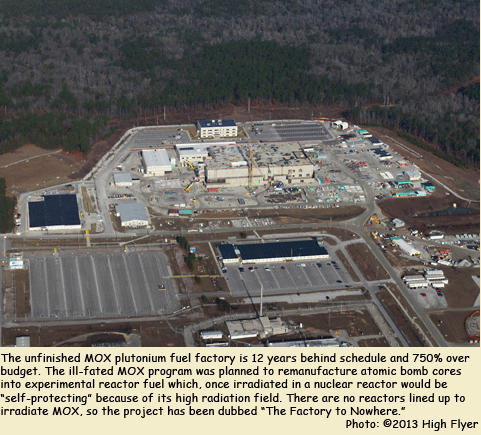 The notice states "the Board rules in favor of the Applicant (Shaw AREVA MOX Services)" on the outstanding security-related contentions brought by Nuclear Watch South and others. Details of the decision, including whether conditions have been attached to the pending license and whether the long-awaited decision was unanimous will be available next week. The full decision will not be publicly available until it undergoes scrutiny and possible redaction by the NRC's Office of Nuclear Security and Incident Response. The decision is subject to appeal and will not be final until it is reviewed and approved by the Commission.
---
Federal Government Backs 6.5 Billion Dollars in Loans for Plant Vogtle
WAYNESBORO 2/20/14: U.S. Secretary of Energy Ernest Moniz came down to Georgia to sign off on giving 6.5 billion in taxpayer dollars to Southern Company, its subsidiary Georgia Power, and Oglethorpe Power to build two nuclear reactors at Plant Vogtle near Augusta.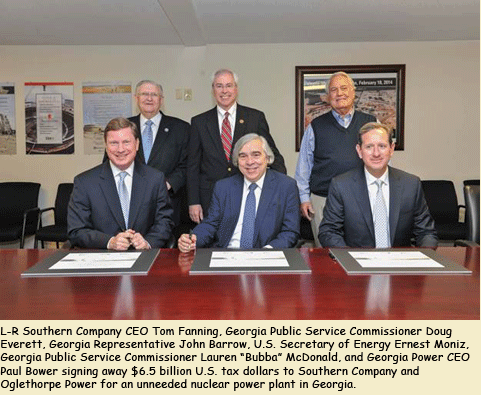 MEAG (Municipal Electric Association of Georgia), 22.7% owner of Vogtle is seeking 1.8 billion dollars in a separate loan guarantee and has a July closure deadline.
The terms of the loan are secret, but Southern Company has divulged to the media that it has put up collateral for the massive loan — namely, the unfinished Vogtle 3 and 4 reactors.
---
What is CWIP?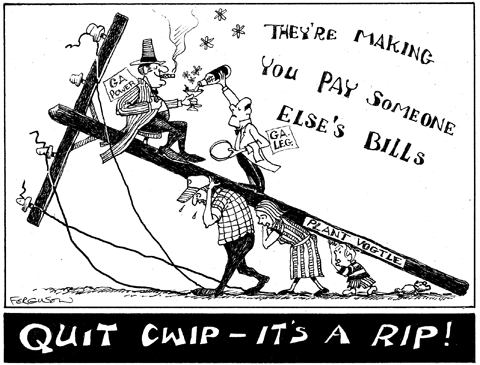 ©2013 Tom Ferguson
CWIP Stands for "Construction Work In Progress"
CWIP stands for Construction Work in Progress and is a statewide corporate nuclear tax that all Georgia residential and small business electricity customers are currently paying on their utility bills.
CWIP is Corporate Welfare
Georgia lawmakers passed the controversial CWIP measure, also known as "Georgia Nuclear Energy Financing Act" in 2009 which made it legal for Georgia Power and Georgia electric companies to force customers to pay upfront for nuclear reactor construction. This is a form of corporate socialism in that the public pays for the project and the corporation reaps the profits. When, and if, the reactors are completed, the companies will charge customers again to use the product for which they already paid.
---
CNN: Fukushima IS Pandora's Promise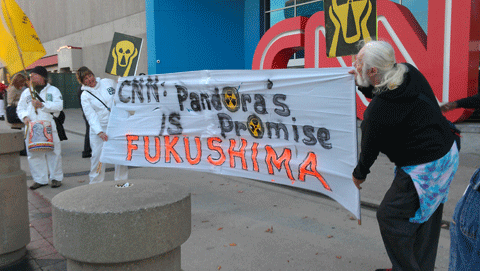 ©2013 Betsy Rivard
11/7/13 ATLANTA: CNN decided to air controversial pro-nuclear film "Pandora's Promise" and found itself at the center of national controversy. A petition with 30,000 signatures got CNN's attention which then scheduled some debates with Sierra Club executive director Michael Brune and Beyond Nuclear Campaigner Kevin Kamps. "Atomic States of America" was aired for free all week on vimeo. And here in Atlanta, Nuclear Watch South figured we should get ourselves downtown to CNN Headquarters for some good old-fashioned street heat! We were well received by the tourists, businessmen and concert goers. Betsy Rivard eluded security for this one photo before we were chased away from the CNN sign!
CNN generated a lot of discussion this week, maybe in the long run it will do some good. Peter Bradford, former Nuclear Regulatory Commissioner, gets our vote for the best quote: "The problem with using nuclear as an answer to climate change is it's so much more expensive than other potential answers," Bradford said. "It's like building palaces to solve a housing shortage, or using caviar to solve world hunger."
SEE MORE PICS AND "LIKE" NUCLEAR WATCH SOUTH ON FACEBOOK
---
COME ON IN! We're ramping it UP!
Power my future with clean energy, PLEASE!
BE PART OF THE SOLUTION! Help lead the way from dirty coal and unsafe nuclear to a future powered by harvesting the sun and wind. Start by KNOWING ABOUT IT! Here are some good resources to help us figure out how to create a clean energy future for our planet:
---
BONNIE RAITT
STANDING TALL FOR NO NUKES Y'ALL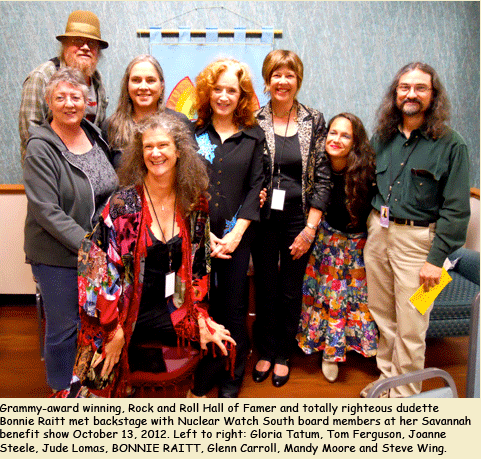 SAVANNAH 10/13/12: Bonnie Raitt put her award-winning SLIPSTREAM tour in support of work to stop U.S. nuclear expansion. In Savannah, Georgia her show benefited NUCLEAR WATCH SOUTH, Alliance for Nuclear Accountability, and South Carolina Sierra Club. NUCLEAR WATCH SOUTH came out in force and launched the Stop CWIP Campaign. We are eternally grateful to Bonnie for a lifetime of commitment to making the world a better place through music and personal activism. Guacamole Fund and Musicians United for Safe Energy produced the green tour. LONG MAY YOU ROCK!!!
---
Stop Plant Vogtle marches down Peachtree Street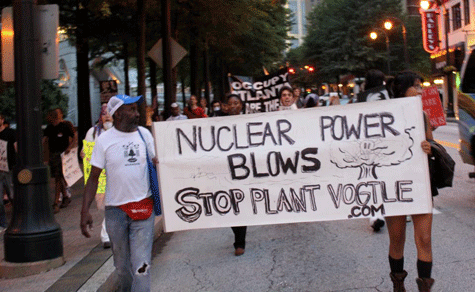 Atlanta, GA 8/28/12: Stop Plant Vogtle campaign was featured in Occupy Atlanta's Tuesday educational march. Hurricane Isaac stopped dumping rain just in time for an evening tour of the Nuclear Regulatory Commission and Georgia Power while handing out fliers to funseekers in downtown Atlanta's tourist district. Of course NUCLEAR WATCH SOUTH was there with hazmat suits and stickers!
---
Vogtle and Nukes on IF YOU LOVE THIS PLANET

APRIL 13, 2012: This week on IF YOU LOVE THIS PLANET
Dr. Helen Caldicott interviews long-time antinuclear activist Glenn Carroll, coordinator of Nuclear Watch South, headquartered in Atlanta, GA. Carroll has been committed to grass roots direct action for 25 years, ever since the 1986 Chernobyl meltdown in Russia inspired her to join efforts to stop Vogtle 1 and 2, a nuclear power plant in Waynesboro, Georgia. In this conversation with Dr. Caldicott, Carroll explains the danger posed by the Vogtle 3 and 4 reactors approved for construction at the Vogtle facility, and how utility company Georgia Power and the Nuclear Regulatory Commission are overriding concerns about the environment and human health in order to built the first new nuclear power plants in the U.S. in several decades.
---
Georgia Power Stuck in a Nuclear Jam
Nuclear Watch South coordinator guest blogs at GA WAND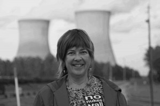 ATLANTA 5/25/12: Everybody except for Georgia is jumping on the wind and solar bandwagon, but Georgia Power is side-lined in a nuclear jam like a horse-buggy manufacturer at the dawning of the Ford assembly line.
Solar and wind are setting records in output and lower costs. Technological breakthroughs in collection and storage of wind and solar have been developed and deployed at such a rapid clip that renewable energy sources are now contributing more electricity to the grid, at lower cost, than nuclear. The historic shift has analysts now harking the coming day when wind and solar will undercut King Coal as well.
---
Nuclear Weapons on a Highway near You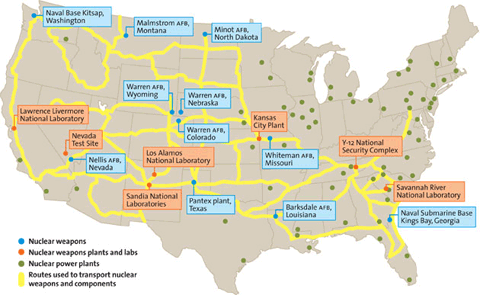 Read about Nuclear Watch South in MOTHER JONES