---
Stand for the Future
FUKUSHIMA OBSERVANCE, March 11, 2014
Three events and opportunities for action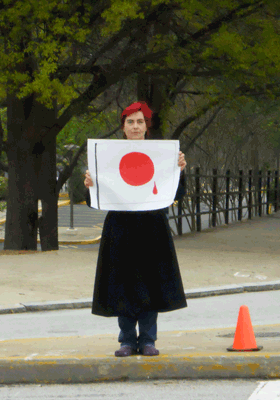 ATLANTA 3/11/14 — Atlanta is host to several events commemorating the third anniversary of the Tohoku tsunami which devastated the northern coast of Japan and touched off unprecedented disaster at Fukushima Dai-ichi nuclear station.
Following a 9.0 earthquake and historic tsunami which killed more than 18,000 Japanese people, the Fukushima nuclear power station lost electrical power to its safety systems, launching events which would lead to three nuclear meltdowns and the evacuation of 180,000 Japanese citizens.
Come out and express support for Japanese people on the front lines of this global radiological disaster.
STAND FOR THE FUTURE!
JAPANESE CONSULATE
12 NOON - 1:30 p.m.
March 11, 2014
3438 Peachtree Rd NE
Atlanta, GA 30326 (Phipps Plaza/Lenox Square)
Atlanta joins the global call for action at Japanese Embassies and Consulates with a respectful observance at the Japanese Consulate in Atlanta. We gather to remember the hardships facing the Japanese as they grapple with the devastation and fallout from Fukushima.
The Japanese Consulate is in the office tower adjacent to Phipps Plaza and across from Lenox Square. We will have a presence on Peachtree Street then walk the short distance to the Phipps Tower plaza for presentation of a letter for Prime Minister Shinzo Abe to Consul General Kazuo Sunaga at press conference. We encourage participants to wear black to signify mourning.
Plenty of free parking and accessible by MARTA. Hosted by Nuclear Watch South and Georgia WAND. FREE.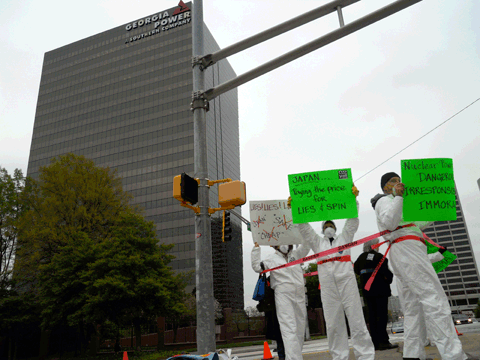 RUSH HOUR AT GEORGIA POWER
5:00-6:00 p.m., March 11, 2014
241 Ralph McGill Blvd NE, Atlanta, GA 30308
(Civic Center — corner of Piedmont Road)
PROTEST Georgia Power which is squandering BILLIONS of TAX $$$ to construct an unneeded, risky nuclear reactor at Plant Vogtle on the Savannah River. Come take a stand for people power on Piedmont Road at busy rush hour on this potent anniversary. Take MARTA or park at the Civic Center. Moonsuits provided!
FUKUSHIMA and Nuclear Issues in Georgia
7:00 p.m., March 11, 2014
Metro Atlanta Sierra Club
Episcopal Church of the Epiphany, 2089 Ponce de Leon Ave. at East Lake Drive

Glenn Carroll, Nuclear Watch South coordinator, will discuss nuclear issues local and far away — coinciding with the third anniversary of the triple nuclear meltdowns at Fukushima Daiichi, Japan. Hear the latest on Fukushima, Vogtle and the nearest Fukushima-style threat to Georgia. FREE. Refreshments.
PBS NEWSHOUR: Fukushima Crisis Continues to Unfold
---
DING DONG! the MOX is (Almost) Dead!
Energy Department Suspends MOX in 2015 Budget Request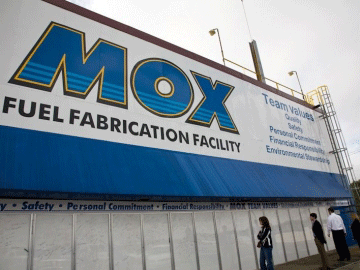 Washington, DC, 3/4/14 – Environmental and non-proliferation groups commended the Department of Energy (DOE) for planning to put the MOX Fuel Fabrication Facility at the Savannah River Site in South Carolina on "cold standby" while it determines an alternative way to dispose of surplus plutonium from nuclear weapons programs.
The MOX program would have used the plutonium to produce fuel for commercial nuclear reactors. Nuclear Watch South has long been concerned about the MOX program's significant security and safety risks, in addition to its massive cost, now estimated at $30 billion.
---
MOX Plutonium Fuel License Approval Granted
Nuclear Watch South: Questions Remain Unanswered
Atlanta, GA, 2/28/14: The Atomic Safety and Licensing Board (ASLB) of the Nuclear Regulatory Commission (NRC) issued its initial decision on the long-running MOX plutonium fuel factory operating license case on February 27, 2014. The two-page decision provides "notice regarding the issuance of initial decision." The full initial decision, because of the sensitive information it contains, is being mailed to the parties by first-class mail. The plutonium factory has been under construction at Savannah River Site (SRS) in South Carolina since 2007.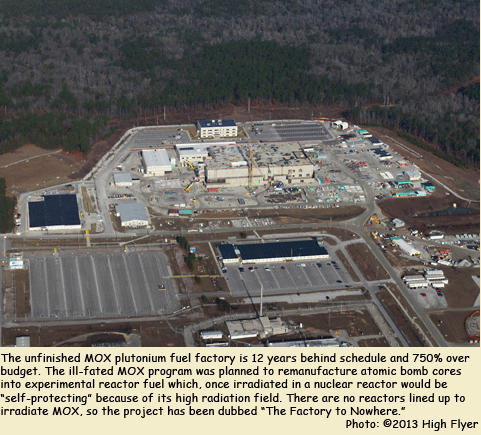 The notice states "the Board rules in favor of the Applicant (Shaw AREVA MOX Services)" on the outstanding security-related contentions brought by Nuclear Watch South and others. Details of the decision, including whether conditions have been attached to the pending license and whether the long-awaited decision was unanimous will be available next week. The full decision will not be publicly available until it undergoes scrutiny and possible redaction by the NRC's Office of Nuclear Security and Incident Response. The decision is subject to appeal and will not be final until it is reviewed and approved by the Commission.
---
Federal Government Backs 6.5 Billion Dollars in Loans for Plant Vogtle
WAYNESBORO 2/20/14: U.S. Secretary of Energy Ernest Moniz came down to Georgia to sign off on giving 6.5 billion in taxpayer dollars to Southern Company, its subsidiary Georgia Power, and Oglethorpe Power to build two nuclear reactors at Plant Vogtle near Augusta.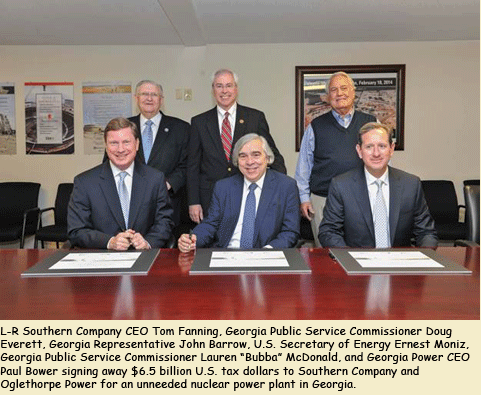 MEAG (Municipal Electric Association of Georgia), 22.7% owner of Vogtle is seeking 1.8 billion dollars in a separate loan guarantee and has a July closure deadline.
The terms of the loan are secret, but Southern Company has divulged to the media that it has put up collateral for the massive loan — namely, the unfinished Vogtle 3 and 4 reactors.
---
What is CWIP?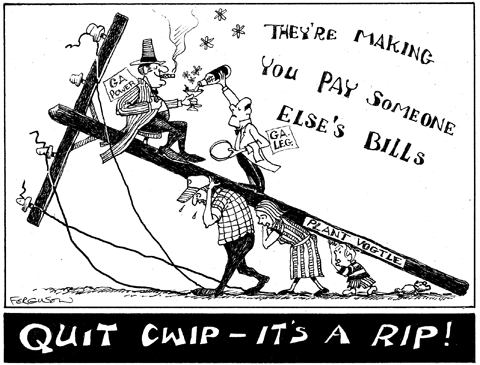 ©2013 Tom Ferguson
CWIP Stands for "Construction Work In Progress"
CWIP stands for Construction Work in Progress and is a statewide corporate nuclear tax that all Georgia residential and small business electricity customers are currently paying on their utility bills.
CWIP is Corporate Welfare
Georgia lawmakers passed the controversial CWIP measure, also known as "Georgia Nuclear Energy Financing Act" in 2009 which made it legal for Georgia Power and Georgia electric companies to force customers to pay upfront for nuclear reactor construction. This is a form of corporate socialism in that the public pays for the project and the corporation reaps the profits. When, and if, the reactors are completed, the companies will charge customers again to use the product for which they already paid.
---
MOX Plutonium Waste Solidification Building to be Mothballed by NNSA
COLUMBIA, SC 1/23/14: Due to cost escalation and delays, a key facility to receive highly radioactive waste from the plutonium fuel (MOX) factory is to be mothballed prior to start-up, signaling more problems with the troubled MOX program.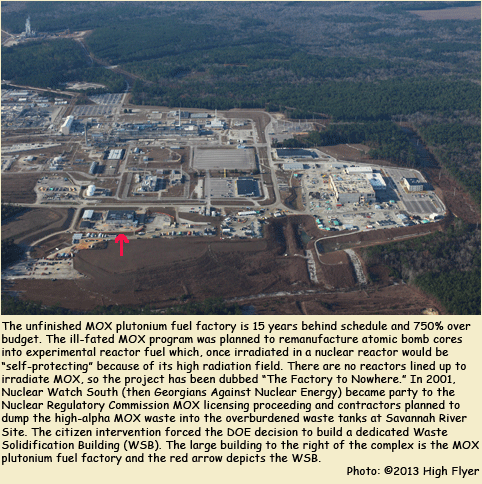 ---
VOGTLE NOT NEEDED: Nuclear Watch South tells PSC "Cheaper to cancel than complete"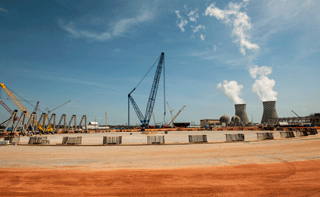 10/15/13 ATLANTA: Nuclear Watch South conducted its first-ever intervention before the Georgia Public Service Commission in opposition to the two-reactor expansion of Plant Vogtle. The cost of the reactors has rapidly risen from $14.3 billion to more than $16 billion as the schedule has slipped by 18 months, possibly more. An economist working with Nuclear Watch South found that the Vogtle expansion is not needed, the cost of Vogtle is too high, and it would be beneficial to Georgians to absorb the sunk costs and cancel the project.
Nuclear Watch South presented expert testimony by Steven C. Prenovitz in the 8th Vogtle Construction Monitoring Review (VCMR). This is the first time an intervening citizens' group presented an expert witness in four years of semi-annual Vogtle expansion construction reviews which are typically dominated by witnesses from Georgia Power and the PSC's Public Advocacy Staff (PIA).
---
CNN: Fukushima IS Pandora's Promise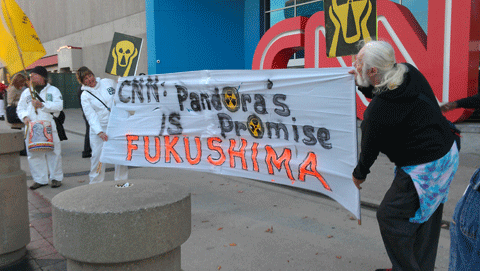 ©2013 Betsy Rivard
11/7/13 ATLANTA: CNN decided to air controversial pro-nuclear film "Pandora's Promise" and found itself at the center of national controversy. A petition with 30,000 signatures got CNN's attention which then scheduled some debates with Sierra Club executive director Michael Brune and Beyond Nuclear Campaigner Kevin Kamps. "Atomic States of America" was aired for free all week on vimeo. And here in Atlanta, Nuclear Watch South figured we should get ourselves downtown to CNN Headquarters for some good old-fashioned street heat! We were well received by the tourists, businessmen and concert goers. Betsy Rivard eluded security for this one photo before we were chased away from the CNN sign!
CNN generated a lot of discussion this week, maybe in the long run it will do some good. Peter Bradford, former Nuclear Regulatory Commissioner, gets our vote for the best quote: "The problem with using nuclear as an answer to climate change is it's so much more expensive than other potential answers," Bradford said. "It's like building palaces to solve a housing shortage, or using caviar to solve world hunger."
SEE MORE PICS AND "LIKE" NUCLEAR WATCH SOUTH ON FACEBOOK
---
COME ON IN! We're ramping it UP!
Power my future with clean energy, PLEASE!
BE PART OF THE SOLUTION! Help lead the way from dirty coal and unsafe nuclear to a future powered by harvesting the sun and wind. Start by KNOWING ABOUT IT! Here are some good resources to help us figure out how to create a clean energy future for our planet:
---
No Nukes Y'all JAMBOREE huge success!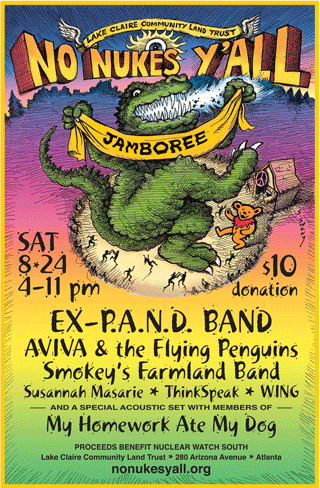 MANY THANKS to all who came and shared the spectacular summer evening in support of Nuclear Watch South.
The afternoon kicked off with a set of righteous protest songs from MY HOMEWORK ATE MY DOG, followed by thought-provoking turns with THINKSPEAK and WING. SMOKEY'S FARMLAND BAND lived up to reputation, delivering a smoking set and getting the crowd onto its feet. As the sun sailed towards the horizon the dancing began in earnest with the inspirational rock of AVIVA & THE FLYING PENGUINS. SUSANNAH MASARIE took it to a new level with her band and a good time was had by all when our good friends EX-P.A.N.D. BAND took the stage.
Here's to the dozens of musicians and hard-working volunteers who made it a big success ~ to the LAKE CLAIRE COMMUNITY LAND TRUST for being a gorgeous and generous host ~ to STEVE SWENY for contributing the cool poster ~ and to the RAGING BURRITO and EUCLID AVENUE YACHT CLUB for sponsoring.
---
Nuclear Watch South Files Legal Findings in MOX Plutonium Security Lawsuit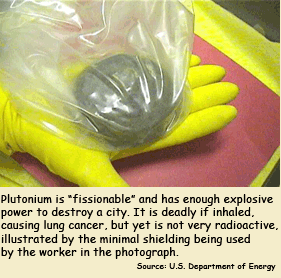 Atlanta, GA, 7/2/13: Nuclear Watch South filed its proposed legal "findings" with the Atomic Safety and Licensing Board (ASLB) of the Nuclear Regulatory Commission NRC) July 1, 2013. NUCLEAR WATCH SOUTH is joined in the legal intervention by Blue Ridge Environmental Defense League (BREDL) and Nuclear Information Resource Service (NIRS) and supported by expert witness Dr. Edwin S. Lyman in challenging inadequate plans for plutonium control and accounting at the controversial MOX plutonium fuel factory under construction at Savannah River Site (SRS) in South Carolina. The groups filed their proposed findings following an unusual second round of closed hearings at NRC headquarters in May. With the various parties having filed proposed findings, the ASLB will follow by issuing an order ruling its finding of fact, which according to the groups should be to deny the MOX license.
---
BONNIE RAITT
STANDING TALL FOR NO NUKES Y'ALL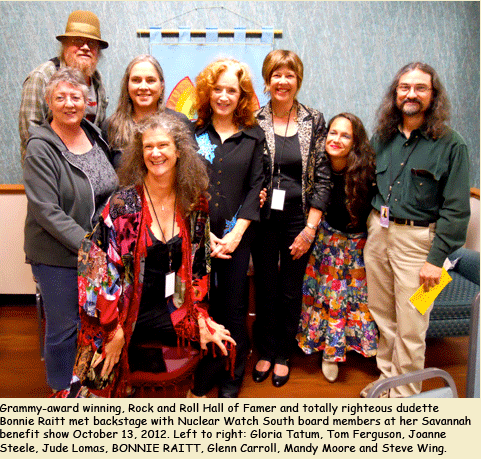 SAVANNAH 10/13/12: Bonnie Raitt put her award-winning SLIPSTREAM tour in support of work to stop U.S. nuclear expansion. In Savannah, Georgia her show benefited NUCLEAR WATCH SOUTH, Alliance for Nuclear Accountability, and South Carolina Sierra Club. NUCLEAR WATCH SOUTH came out in force and launched the Stop CWIP Campaign. We are eternally grateful to Bonnie for a lifetime of commitment to making the world a better place through music and personal activism. Guacamole Fund and Musicians United for Safe Energy produced the green tour. LONG MAY YOU ROCK!!!
---
Stop Plant Vogtle marches down Peachtree Street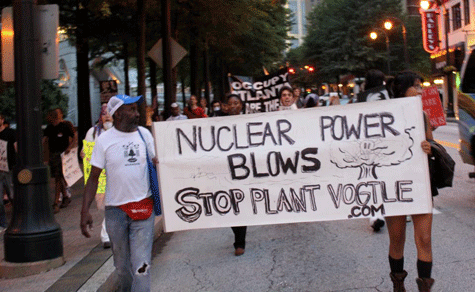 Atlanta, GA 8/28/12: Stop Plant Vogtle campaign was featured in Occupy Atlanta's Tuesday educational march. Hurricane Isaac stopped dumping rain just in time for an evening tour of the Nuclear Regulatory Commission and Georgia Power while handing out fliers to funseekers in downtown Atlanta's tourist district. Of course NUCLEAR WATCH SOUTH was there with hazmat suits and stickers!
---
Vogtle and Nukes on IF YOU LOVE THIS PLANET

APRIL 13, 2012: This week on IF YOU LOVE THIS PLANET
Dr. Helen Caldicott interviews long-time antinuclear activist Glenn Carroll, coordinator of Nuclear Watch South, headquartered in Atlanta, GA. Carroll has been committed to grass roots direct action for 25 years, ever since the 1986 Chernobyl meltdown in Russia inspired her to join efforts to stop Vogtle 1 and 2, a nuclear power plant in Waynesboro, Georgia. In this conversation with Dr. Caldicott, Carroll explains the danger posed by the Vogtle 3 and 4 reactors approved for construction at the Vogtle facility, and how utility company Georgia Power and the Nuclear Regulatory Commission are overriding concerns about the environment and human health in order to built the first new nuclear power plants in the U.S. in several decades.
---
Georgia Power Stuck in a Nuclear Jam
Nuclear Watch South coordinator guest blogs at GA WAND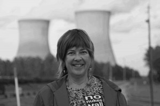 ATLANTA 5/25/12: Everybody except for Georgia is jumping on the wind and solar bandwagon, but Georgia Power is side-lined in a nuclear jam like a horse-buggy manufacturer at the dawning of the Ford assembly line.
Solar and wind are setting records in output and lower costs. Technological breakthroughs in collection and storage of wind and solar have been developed and deployed at such a rapid clip that renewable energy sources are now contributing more electricity to the grid, at lower cost, than nuclear. The historic shift has analysts now harking the coming day when wind and solar will undercut King Coal as well.
---
Nuclear Weapons on a Highway near You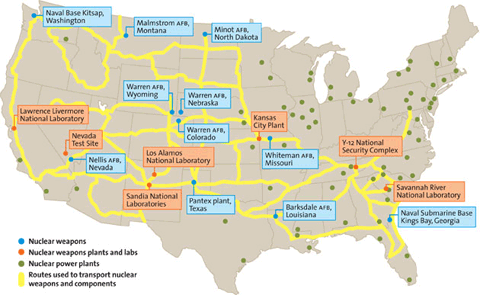 Read about Nuclear Watch South in MOTHER JONES
---
FUKUSHIMA | V0GTLE
Day of Remembrance and Warning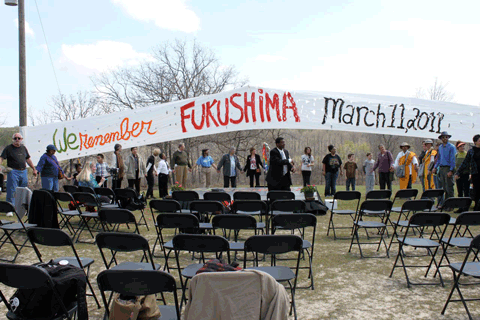 SHELL BLUFF, GA 3/11/12: On March 11, 2011 the world's eyes were on Japan as the devastating earthquake and tsunami triggered the Fukushima nuclear disaster, the worst in history.
On March 11, 2012, the world's eyes are also on Georgia where Georgia Power has received a license to build the first two nuclear reactors in the U.S. in 38 years. These reactors would be built at Plant Vogtle in Burke County 40 miles south of Augusta on the Savannah River.
100 people gathered at the Fairfield Missionary Baptist Church in beautiful Burke County to remember the victims of Fukushima and gather strength to stop two new reactors from being added to the two which are already there.
Shoji Kihara from Hiroshima turned down the opportunity to address 10,000 people in Japan in order to be present with us in Georgia. He said that the fate of Vogtle will be powerful influence on the fate of nuclear power.
---
Nuclear Watch South joins legal opposition to license for two new reactors in Georgia
Groups contend that NRC failed to fully consider Fukushima lessons before issuing license to construct and operate two new nuclear reactors
ATLANTA, GA 2/17/12: The Nuclear Regulatory Commission (NRC) voted 4-1 on February 9, 2012, to issue the final license for two new reactors at the site of the currently operating Vogtle nuclear power plant in Georgia. NRC Chairman Gregory Jaczko cast the only dissenting vote, effectively agreeing with nine national, state and regional groups who will file a challenge in federal court.
A major legal challenge has been filed charging the NRC with violating federal law to issue the license without considering the important lessons of the catastrophic Fukushima accident in Japan and regarding the ways the Vogtle operation should be modified to protect public safety and the environment. The groups are asking federal judges to order the NRC to prepare a new environmental impact statement (EIS) for the proposed Vogtle reactors that explains how cooling systems for the reactors and spent fuel storage pools will be upgraded to protect against earthquakes, flooding and prolonged loss of electric power to the site. The EIS must also detail how emergency equipment and plans for the nuclear plant will be revised to account for accidents affecting multiple reactors on the Vogtle site, as happened at Fukushima.