NUCLEAR WATCH SOUTH | FUKUSHIMA
Standing for the Future: FUKUSHIMA OBSERVANCE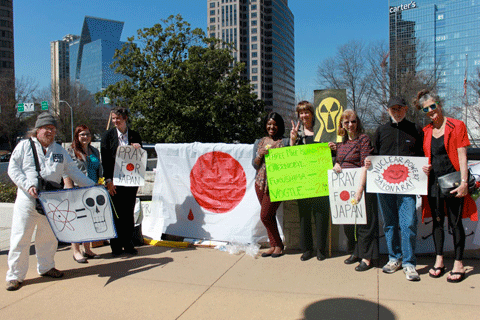 Photo ©2014 Betsy Rivard
ATLANTA 3/11/14 — Activists with Nuclear Watch South and Georgia WAND gathered by the Japanese Consulate in Atlanta to remember the Tohoku earthquake and tsunami that devastated the northern coast of Japan on March 11, 2011, killing nearly 20,000 people and touching off three nuclear meltdowns at Fukushima Dai-ichi nuclear complex. The radiological situation in Japan is still not under control and 135,000 people, by official estimates, are still evacuated from their ancestral homes.
Bearing gifts of flowers and origami peace cranes, we delivered a letter of sympathy and support for the Japanese people addressed to Japanese Prime Minister Shinzo Abe. Deputy Consul General Yasukata Fukahori represented Consul General Kazuo Sunaga to receive the letter for the Atlanta Japanese Consulate.
Dr. Fukahori was frank about the political controversy about restarting Japan's nuclear reactors dividing largely along business and populist lines, and confessed that he does not consider himself an expert on energy issues. He said to the groups' representatives, "I see that you are sincere in your sympathy."
The letter, signed by Nuclear Watch South and Georgia WAND, states in part:
We wish to express our deep sympathy and support for the Japanese people, who are facing the nuclear accident in Fukushima even as they continue to recover from the Great East Japan (Tōhoku) Earthquake and tsunami of three years ago. We wish to affirm the celebrated technological prowess of Japan and her ability meet the challenge of containing and decommissioning the Fukushima Daiichi Nuclear Power Plant, and to lead the world in deploying safe energy systems such as solar, wind and tidal power.

We believe that the primary focus of your government must be on mitigating the catastrophic radiation releases from the Fukushima Daiichi Nuclear Power Plant, preventing further disasters, and developing energy efficiency and safe energy sources instead of on restarting nuclear reactors and exporting nuclear technology. It is important for Japan to conserve its financial, managerial and regulatory resources in order to meet the supreme challenges facing the Japanese people.
PBS NEWSHOUR: Fukushima Crisis Continues to Unfold
---
DIAL "M" FOR MELTDOWN
Creative collection of devastating nuclear holocaust footage loaded with information.
Video artist RATATAT says: FULL-SCREEN HD recommended: After seeing the destruction in Japan from the Earthquake and Tsunami. Then witnessing Fukushima Nuclear Facility melt down before my very eyes on television. I knew something was not right. My research and investigations were met with dead ends, false readings/answers, and lies. I decided to create this video to make sure the history of Commercial Nuclear power was documented and presented to a younger generation. I found most of the public was turned off by the complex nature of Nuclear Physics, even if what they didn't know was going to kill them and their loved ones.
Meeting Arnold Gundersen and his wife Maggie only opened my eyes to the dangers our country and civilization face because of decisions made decades ago and the lies created to further the nuclear agenda. Their constant truthful testimony against the nuclear industry and their shortcuts and obfuscating, should be a real awakening to the public at large. Creative inspiration came from the GOOD Nuclear Weapons video. Enjoy!
---
FUKUSHIMA | V0GTLE
Day of Remembrance and Warning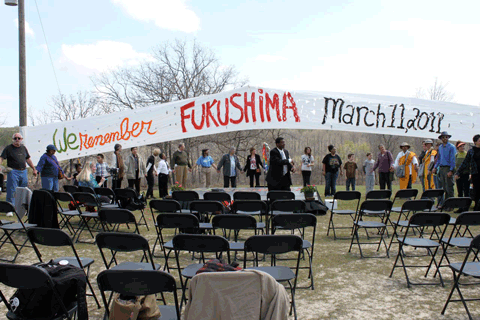 On March 11, 2011 the world's eyes were on Japan as the devastating earthquake and tsunami triggered the Fukushima nuclear disaster, the worst in history.
On March 11, 2012, the world's eyes are also on Georgia where Georgia Power has received a license to build the first two nuclear reactors in the U.S. in 38 years. These reactors would be built at Plant Vogtle in Burke County 40 miles south of Augusta on the Savannah River.
100 people gathered at the Fairfield Missionary Baptist Church in beautiful Burke County to remember the victims of Fukushima and gather strength to stop two new reactors from being added to the two which are already there.
Shoji Kihara from Hiroshima turned down the opportunity to address 10,000 people in Japan in order to be present with us in Georgia. He said that the fate of Vogtle will be powerful influence on the fate of nuclear power.
---
Take a 12-Minute Drive w/Radiation Counters
into the Fukushima Exclusion Zone
FUKUSHIMA, Japan (4/6/11) This harrowing car trip through the earthquake, tsunami and reactor-ravaged Japanese coast is a must-see to begin to appreciate the magnitude of the radioactive releases and the actuality of the mass exodus of 300,000 Japanese from their homes, possibly forever.
---
ATOMKRAFT? NEINE DANKE!
GERMANY (3/12/11) The explosion at the Japanese nuclear power plant has given new fuel to a long-running dispute in Germany, where tens of thousands demonstrated on Saturday against plans to extend the life of the country's nuclear power stations. According to the police, some 50 000 people took part in the protest which saw a human chain spread from a nuclear power plant in Neckarwestheim to the city of Stuttgart. Those participating in the demonstration said it was time for the German government to move away from nuclear power. A few weeks later Germany decided to phase out nuclear energy completely.
---
We Remember:
THREE MILE ISLAND
CHERNOBYL
FUKUSHIMA
VOGTLE
ATLANTA (3/28/11) The 32nd anniversary of the nuclear meltdown at THREE MILE ISLAND was observed widely and GREENPEACE helped network more than 200 community vigils.
NUCLEAR WATCH SOUTH and GA WAND took to the streets in Atlanta to remind people that it CAN HAPPEN HERE. As the nuclear holocaust unfolds at
Fukushima we gathered at
rush hour in front of Georgia Power to demand
"NO TAX $$$ FOR VOGTLE!"
---
Nuclear Watch South in nuclear debate on 11 Alive
Longtime NUCLEAR WATCH SOUTH coordinator Glenn Carroll faced off with Georgia Congressional Representative Phil Gingrey on Atlanta's NBC affiliate 11 Alive Saturday morning, March 19, 2011. Popular Atlanta newscaster Karyn Greer moderated the debate about nuclear power and the Japanese nuclear disaster. Gingrey's #11 district in NW Georgia is a little more than 50 miles from TVA's risky ice condenser reactors Sequoyah I & II in Chattanooga, Tennessee.
---
Plutonium Fuel (MOX) in Fukushima Unit 3,
US Reactors Poses Additional Safety and
Radiation Risks
TOM CLEMENTS, Friends of the Earth SE Nuclear Campaign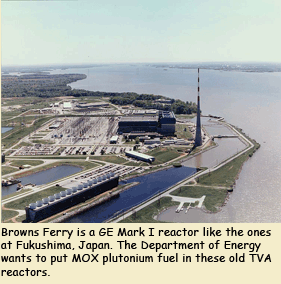 One of the Japanese reactors under risk of continued fuel melting or explosion is now operating for the first time with part of the core being plutonium fuel. This plutonium mixed oxide (MOX) fuel , shipped from Europe and inserted in Fukushima Unit 3 in September 2010, poses greater risks than traditional uranium fuel. MOX, made from plutonium which is capable of being used in nuclear weapons, is harder to control during reactor operation and results in a more serious radiation release in case of an accident, which is the grave threat we are now seeing in Japan. The plutonium in the MOX is a result of the reprocessing of Japanese spent fuel and that program and MOX have long been opposed by public interest groups due to safety, cost and non-proliferation concerns.
In the US, the Department of Energy is considering use of MOX fuel in the Tennessee Valley Authority's (TVA) Browns Ferry reactors, of the same aging Mark I boiling water reactor (BWR) design as Fukushima Unit 3. Analysis by TVA of use of unsafe MOX fuel made from surplus weapons plutonium must be halted and the $850 million request in President Obama's FY2012 must be rejected. Cost of the MOX plant now under construction at DOE's Savannah River Site has skyrocketed from $1.4 billion in FY 2004 to $4.9 billion in FY 2009 and has become a program driven by special interests which profit from it.
LINKS
U.S. plutonium disposition program: Uncertainties of the MOX route – March 10
Secret Plan Exposed to Use Surplus Weapons Plutonium in Washington State Nuclear Reactor
Dr. Edwin Lyman ~ Impact of MOX Fuel on Potential for Severe Nuclear Plant Accidents in Japan