GEORGIA | VOGTLE 3 & 4
---
Nuclear Watch South Observes Chernobyl 30 with Georgia Power Performance Data Release
ATLANTA 4/26/16: In observance of the 30th anniversary of the Chernobyl nuclear disaster in Ukraine, Nuclear Watch South is releasing updated Georgia Power data which show Vogtle 3 & 4 are not needed and should be cancelled. A press conference and information release in front of Georgia Power headquarters will be held on Tuesday, April 26, 2016, at noon at the corner Baker/Highland and Piedmont in the shadow of Georgia Power headquarters.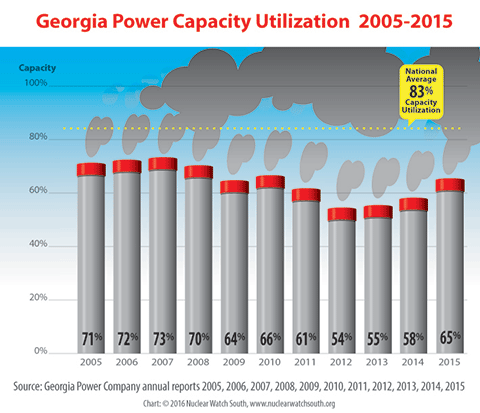 Nuclear Watch South is unveiling updated charts based on Georgia Power's latest annual report data which show that Georgia Power's nuclear expansion at Vogtle still is not needed. The 2015 data show a deepening of negative 10-year trends: Georgia Power's sales are down for another year and its capacity utilization is still well below the national average, despite the closure of 2,000 Mw of coal plants.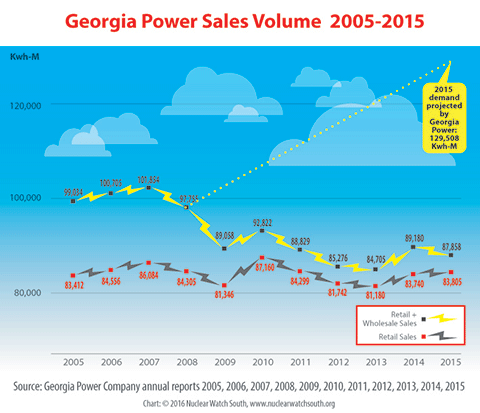 However, Georgia Power profits have swelled greatly, a five-year trend which followed a sudden uptick of more than 20% in 2011. The regulated monopoly's profits have grown steadily during the years of Vogtle construction correlating with its collection of controversial CWIP tax, that is, Nuclear Construction Cost Recovery tariffs on Georgia Power residential and small customer bills.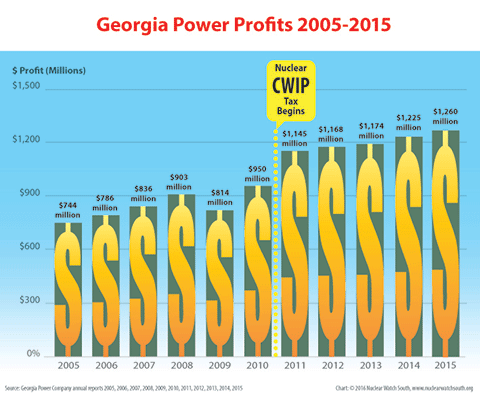 "It is outrageous that Georgia Power has been running this Vogtle 3 & 4 racket for five years and getting away with it!" says Glenn Carroll, Nuclear Watch South's coordinator. "These data show undeniably that Georgia Power doesn't need the measly 6% increase in capacity that Vogtle 3 & 4 would provide IF Georgia Power can even build the reactors at all.
"Despite its notoriously poor performance at Vogtle 3 & 4, Georgia Power 'earned' a net profit margin of 15.3% ($1.26 billion) in 2015," continues Ms. Carroll. "Given these factors, one wonders if Georgia Power has any real motivation to finish Vogtle. Heck, the money's so good, no wonder they are signing up to build two more!"
Construction delays and cost overruns at the Vogtle nuclear site which is still only 25% complete and was supposed to be on-line at the beginning of April have been well publicized. Georgia Power is currently seeking to clear its $7 billion Vogtle tab with the Public Service Commission (PSC). If the company succeeds in recovering the $7 billion it is putting through an ad hoc so-called prudency review, Georgia electricity customers and U.S. taxpayers will have borne the entire cost of the unfinished nuclear plants.
Georgia Power is also immersed in its 20-year Integrated Resource Plan which it is required to submit to the Georgia Public Service Commission every three years. Besides seeking to build two reactors on the endangered Chattahoochee River, the plan proposes shutting some coal plants and pursuing modest amnounts of solar and wind power. Georgia Power, like almost all U.S. monopoly, for-profit utilities, is studiously skeptical about roof-top solar, in which the distributed solar generation feeds into the existing grid.
Nuclear Watch South contends that Georgia Power's excess capacity could be a blessing in disguise, giving the regulated monopoly alot of room to redesign its power portfolio and update the state power grid from antique baseload to a distributed-renewable, computer-driven smart grid.
"Georgia Power should just stop Vogtle where it is and shut poisonous coal and nuclear plants, like the aged, leaking, Fukushima-style Hatch reactors near Vidalia, to reduce its excess capacity further," says Carroll. "We applaud the company for seeking to build more renewable capacity in its Integrated Resource Plan down at the PSC. It has time on its side to transform to a 21st-century, distributed, clean power renewable grid."
Photo: Timm Seuss 2014
All four reactors at Chernobyl are now shuttered. The evacuated "exclusion zone" is twice the size of Rhode Island and spans the Belarus/Ukraine border and was formerly known as the bread basket of the Soviet Union. Experts say the area will not be safe for habitation until 3,000 years from now. To give that timeframe some context: the entire history of Western civilization is only 3,000 years.
"Chernobyl changed my life. When I heard that a fissioning nuclear core had spewed its contents into the environment, I knew it was a game-changer," says Carroll. "I became an activist. The atomic age was only 40 years old then. Now it is 70. Three more full-scale reactors have emptied their radioactive cores into the environment. It is time to stop the nuclear madness.
"The future of nuclear power is nuclear waste. We need to get on it!"
RESOURCES
---

READ THE FORBIDDEN NUCLEAR WATCH SOUTH TESTIMONY
READ THE STORY ON THE SLEEPING REGULATORS
---
Nuclear Watch South Releases Chart Showing Georgia Power's Profits from Vogtle Boondoggle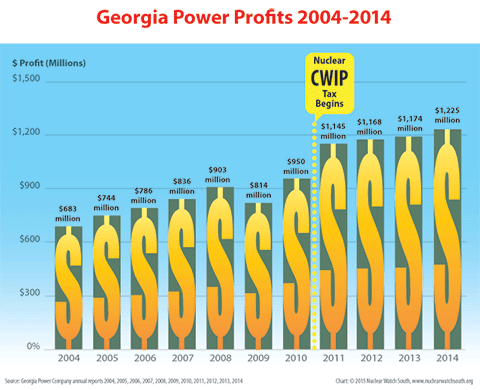 ATLANTA 12/7/15: Nuclear Watch South filed a demonstrative exhibit, GEORGIA POWER PROFITS 2004-2014 with the Georgia Public Service Commission (PSC) in support of direct testimony to be given on Thursday, December 10, 2015 at a public hearing on the 13th Vogtle Construction Monitoring and Review. The colorful chart illustrates a line in the previously submitted Updated Georgia Power Key Financial and Operating Data. Nuclear Watch South is presenting this data to the PSC to prove that Vogtle 3 & 4 are not needed and should be decertified.
The data chart is compiled from Georgia Power annual report data and shows that Georgia Power sales have been flat despite the company's forecast of 4.1% annual demand growth at the time of Vogtle 3 & 4 certification. The company's data also show that utilization of its existing capacity has been dropping and is well below industry average.
The latest chart starkly illustrates the correlation between a 20% jump in Georgia Power profits, establishing a new high water mark well above $1 billion, and the inception of Construction Work in Progress AKA Nuclear Construction Cost Recovery tariff in 2011. The chart supports the arguments made in Nuclear Watch South's direct testimony filed in November.
"We are hopeful that this picture grabs the attention of the Public Service Commission and inspires them to right the wrong being done to the citizens of Georgia," says Glenn Carroll, coordinator of Nuclear Watch South. "Georgia citizens are on the hook building an unneeded power source while Georgia Power is seeing unprecedented profit during an historic recession.
"We are at a turning point in history. Energy markets and utility business models are being transformed overnight. History demands bold vision and bold action and Georgia citizens are waiting to see if its Public Service Commissioners will heed the call."
READ NUCLEAR WATCH SOUTH'S BANNED TESTIMONY
---
Nuclear Watch South to PSC: Protect Georgia citizens from Georgia Power's excessive profits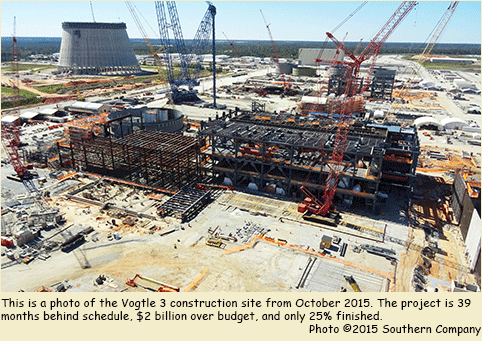 ATLANTA 11/20/15: Nuclear Watch South is releasing updated charts of Georgia Power's SEC-filed data which show windfall company profits in the years that Vogtle 3 & 4 have been under construction. The information is key to testimony Nuclear Watch South filed with the Georgia Public Service Commission (PSC) in its 13th Semi-Annual Vogtle Construction Monitoring Review of the ongoing necessity and public convenience of Vogtle expansion.
Nuclear Watch South testimony is backed by Georgia Power's annual report data which show Georgia Power increasing profits even as the company racks up sagging sales and is using less than 60% of its existing capacity.
"Georgia Power's profits have risen an average of 6% annually even though their electricity sales have gone down. Meanwhile, our electric bills go up, up up, to pay for Plant Vogtle," says Nuclear Watch South coordinator Glenn Carroll who is conducting the legal intervention representing Nuclear Watch South's 1,000 Georgia members. "The numbers don't lie. You can clearly see the surge in Georgia Power profits that occurred when they started collecting the nuclear construction cost recovery tariff on our bills."
Georgia Power began collecting unprecedented Construction Work In Progress (CWIP) taxes on residential and small business customer bills in 2011 which produced a profit surge for the company over 20% and was also the first year in company history to top $1 billion in profits, a trend which continues through the most recent 2014 annual report.
CWIP is listed on Georgia Power customer bills as Nuclear Construction Cost Recovery (NCCR) thanks to a measure passed by the PSC which regulates Georgia Power's rates including allowing the investor-owned company to collect the nuclear construction tariff. The Georgia legislature passed the controversial Georgia Nuclear Energy Financing Act legalizing the nuclear tax in 2009.
Two reactors have been under construction at Vogtle in Burke County, Georgia, on the Savannah River near Augusta since March 2013. Georgia Power's nuclear expansion project has already fallen 39 months behind schedule and it recently settled $2 billion in disputed cost overruns with its partners Westinghouse and CB&I.
"We call upon the PSC for bold vision and action to protect Georgia citizens from losing more money on the bad Vogtle bet," says Ms. Carroll. "Georgia Power's business plan is working out great for Georgia Power and its shareholders but it is adding up to a big goose egg of an investment for Georgians.
"We are living in a time of historic shifts in the energy field," continues Carroll. "The success of solar and wind power is capturing the headlines but Georgia is stuck leading a Nuclear Renaissance to nowhere. History awaits the response of the Georgia Public Service Commissioners to the challenge presented by the Vogtle situation.
"It is time for the Commissioners to shut the Vogtle boondoggle down."
RESOURCES
---
Nuclear Watch South Denounces PSC Decision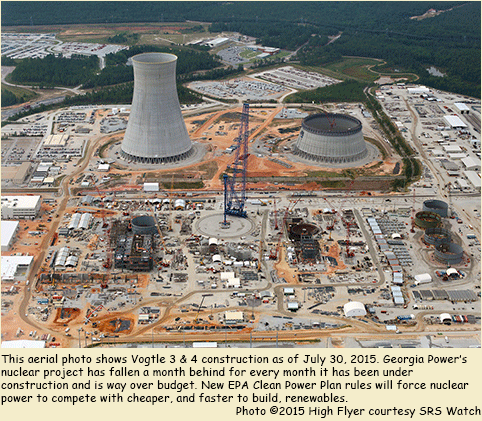 ATLANTA 8/18/15 — In the face of compelling data from 10 years of Georgia Power's own annual reports showing that the company is overbuilt in a shrinking electricity market, the Georgia Public Service Commission's (PSC) unquestioning allegiance to the company it is supposed to regulate was displayed in stark relief in its decision today. In a unanimous vote, the PSC not only granted Georgia Power's requests, but it rejected every recommendation it received from the public and its own staff.
Unsurprisingly, the Commission voted to award Georgia Power $169 million rate recovery for its expenses on Vogtle 3 & 4 construction over the past six months. A 2013 stipulation entered into by some parties (but not Nuclear Watch South) provides for Georgia Power to recover without review its Vogtle construction expenses until it reaches a cap set by its certified capital cost. According to the stipulation, Georgia Power will have to seek recovery for any cost overruns in prudency review hearings following the Vogtle 3 reactor's start-up, now optimistically projected by Georgia Power to occur in 2019. As long as the PSC allows the unneeded construction project which is fully funded by the rate paying and taxpaying public to continue, Georgia Power will continue to seek its entitlement every six months.
Nuclear Watch South was among the citizens groups which injected reasonable ideas into the 12th Vogtle Construction Monitoring Review over the past several months. Nuclear Watch South proposed that Vogtle 3 & 4 construction be cancelled or deferred until there is a market for the energy. Nuclear Watch South additionally argued for studies comparing the Vogtle project benefits to distributed solar and wind generation, an idea also put forth by consumer advocacy group Georgia Watch. The PSC Public Interest Advocacy Staff recommended that the PSC require such a study in the 2016 Integrated Resource Plan.
"By rejecting the staff's recommendation in today's vote, the PSC displays an unwholesome disregard for not only the electricity-buying public it is chartered to represent but for technological and marketplace realities coming to bear in Georgia," says Glenn Carroll, Nuclear Watch South's coordinator. "Vogtle construction continues to fall behind a month for every month it has been under construction even as solar and wind generation have become cheaper than nuclear. The Commissioners went out of their way today to display their slavish devotion to nuclear power, refusing to even entertain the question of whether there is a better and cheaper way for Georgia citizens to light and air condition their homes."
---
Georgia Power fails to rebut Nuclear Watch South's challenge to Vogtle 3 & 4 necessity
Citizens renew call for Vogtle cancellation
ATLANTA (July 13, 2015) — On Friday afternoon, 7/10/15, Georgia Power Company requested a waiver from filing rebuttal testimony into the 12th Vogtle Construction Monitoring docket currently under review at the Georgia Public Service Commission (PSC). Georgia Power's omission leaves Nuclear Watch South's claim that Vogtle 3 & 4 are not needed unchallenged by the company.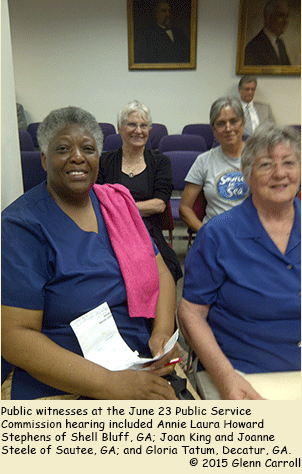 At a public hearing before the PSC on June 23, Nuclear Watch South presented testimony based on Georgia Power annual report data filed with the Securities Exchange Commission over the past 10 years which show clearly that electricity sales for the company have remained low despite rosy company forecasts for more than 4% annual growth in demand. The long-term low sales highlight Georgia Power's excessive unused electric capacity and point to an obvious finding — additional nuclear generating capacity at Vogtle is not needed by Georgians, or customers from other states either.
"Georgia Power's own SEC-filed data provides unassailable proof that Vogtle 3 & 4 are not needed," says Nuclear Watch South Coordinator Glenn Carroll who served as the public interest group's expert witness at the June 23 public hearing. "Georgia Power has not even attempted to re-spin the obvious conclusion that must be drawn from its sales and capacity utilization data — Vogtle 3 & 4 are simply not needed. Period."
Nuclear Watch South also testified to the PSC about the Commission's legal authority to cancel or modify Georgia Power's certification to build two additional reactors at Vogtle which it issued in 2009.
"Georgia Power's data illustrate how dramatically the electricity market has changed since the PSC's decision to allow Georgia Power to construct Plant Vogtle," says Ms. Carroll. "Fortunately, Georgia law provides for the PSC and Georgia Power to correct the course in light of new findings. Since Georgia Power is defaulting on its opportunity to justify continued construction of unneeded capacity, in light of the evidence, the PSC should move immediately to cancel construction and save further public money from being squandered at Vogtle."
(See following article for charts and analysis.)
Since its inception, the Vogtle 3 & 4 project has been at the center of controversy. Georgia Power incited public outcry with heavy-handed legislative maneuvering to garner the notorious "Construction Work In Progress (CWIP)" tax now being charged at 10% on customer electric bills under the moniker "Nuclear Construction Cost Recovery." At the same time, Georgia Power is borrowing billions of U.S. tax dollars in a no-interest loan from the U.S. Department of Energy which set off a national taxpayer resistance campaign. Now, only three years into construction, the reactors are already $2 billion over budget and more than three years behind schedule.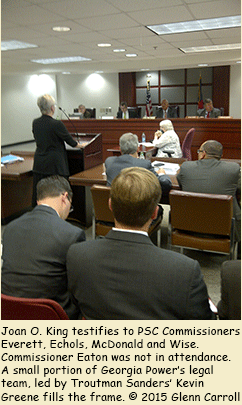 "The PSC is the only forum for Georgians to confront the rich and powerful Georgia Power monopoly," Ms. Carroll observes. "A couple of times a year, ordinary citizens have an opportunity to address the PSC and Georgia Power about the breathtakingly expensive Vogtle 3 & 4 project. Now Georgia Power is effectively ducking confrontation with its captive public over the $18 billion boondoggle it has foisted upon us."
In addition to testifying that it would be cheaper for Georgia electricity customers to cancel Plant Vogtle and absorb the loss than to finish unneeded electrical capacity, Nuclear Watch South called for a number of additional studies to update the basis by which Plant Vogtle's cost-effectiveness is determined. Citing the Nuclear Regulatory Commission's licensing policies and the historical limits to nuclear operating experience (45 years), Nuclear Watch South is demanding 40-year economic benefit analysis to supplement the 60-year economic basis currently employed. The group also called for the cost to cancel Vogtle 3 & 4 to be put on the table and for economic benefit comparisons to be drawn between nuclear and renewables instead of nuclear and fracked natural gas plants.
Contact: Glenn Carroll, Nuclear Watch South, 404-378-4263 | 404-432-8727 cell | e-mail
---
Nuclear Watch South to PSC: Vogtle Not Needed, Cancel Construction of Vogtle 3&4 Reactors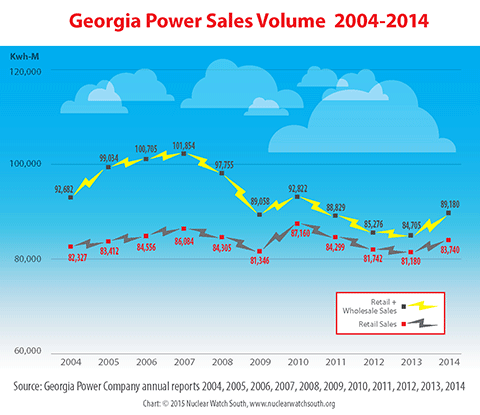 Chart illustrates that Georgia Power's electricity sales have a flat average growth rate over the past decade. The Georgia Public Service Commission issued certification for Vogtle 3 & 4 reactor construction based on Georgia Power forecasts of 4.1% annual growth. Georgia Power's capacity utilization is also depressed (see chart below) and Nuclear Watch South is calling for the PSC to decertify Vogtle 3 & 4. Data derived from Georgia Power annual reports by Georgia-based economist Steven C. Prenovitz.
ATLANTA June 11, 2015: Nuclear Watch South filed direct testimony in the semi-annual Vogtle construction monitoring docket at the PSC arguing to cancel construction of Plant Vogtle based on a chart of Georgia Power annual report data from the past 10 years showing that Vogtle's power is not needed.
"Georgia Power forecast 4.1% annual increases in power demand when it convinced the PSC to certify a $14.6 billion expansion at Plant Vogtle," says Nuclear Watch South's coordinator Glenn Carroll who provided testimony on behalf of the Atlanta-based citizens' group. "Georgia Power's own data shows in black-and-white that electricity sales have gone flat over the past 10 years. This mirrors what is happening all over the country, actually," she adds.
Nuclear Watch South's filing shows that Georgia Power sales in both retail and wholesale markets have remained flat over the 10-year period 2004–2014. The Georgia Power data also shows that the company's annual average use of its existing generating portfolio has fallen from 72% to 58%.  Nuclear Watch South's testimony cites Georgia code empowering the PSC to modify or revoke a certificated capacity resource if it is no longer needed. The law says that the Commission may initiate certificate modification, that is, mothball or cancel construction of unneeded power supply, upon its own initiative, at any time.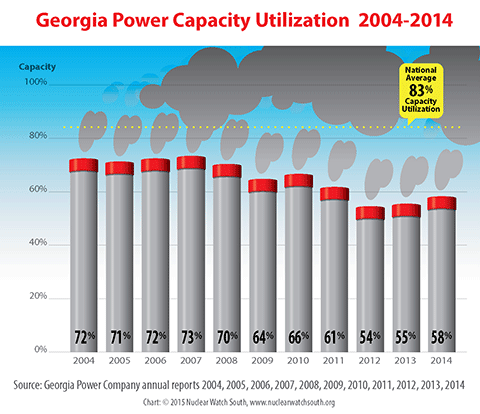 Georgia Power has spent $6 billion of public ratepayer and taxpayer dollars on Vogtle 3 & 4 despite a significant surplus of existing power supply. Georgia Power's capacity utilization has dropped from 72%, more than 10 points below the national average, to a weak 58% in 2014. Chart data compiled by Georgia economist Steven C. Prenovitz.
"Georgia Power testified last week that it is 24-25% finished with Plant Vogtle, yet it has already blown through $6 billion, one-third of its new $18 billion price tag," Ms. Carroll says. "Nobody needs the power from Plant Vogtle and it would be cheaper for the investors — that is, Georgia Power's customers being taxed for Vogtle construction on their power bills to pay — to just pay what it takes to be quit of this big, bad deal."
Georgia Power's foray back into nuclear construction is one of only two projects to go forward from a rush of nuclear licensing which gave rise to "Nuclear Renaissance" talk a decade ago. Georgia Power's decision was made amidst the availability of federal tax credits, cheap federal loans, and a Construction Work in Progress (CWIP) tax on Georgia Power electric bills to help pay construction costs.
As the "Nuclear Renaissance" withered, Georgia Power became isolated with a struggling supply chain and construction delays which it is blaming on Vogtle contractors. In the years since construction began, the group's filing points out, not only has the nuclear industry begun struggling, but solar and wind power have become cheap and available. The group argues that updated studies establishing not only the cost to cancel construction at Plant Vogtle, but to compare the cost of finishing the project to seeking future power supply from distributed solar and wind generation are needed.
Recently Vogtle 3 & 4 have become notorious for falling prey to the persistent problems in building nuclear megaprojects. Vogtle's difficulties have placed it three years behind schedule and $2 billion over budget.
Ms. Carroll says, "We are intervening in the Vogtle certification process to get the PSC's attention upon important information that has been overlooked. Their decisions affect the millions of Georgia ratepayers that are captive to the monopoly which only they regulate. The five men on the Georgia Public Service Commission are literally the most powerful men on Earth when it comes to the multi-billion dollar Vogtle boondoggle going forward, or not."
---
DON'T NUKE THE CLIMATE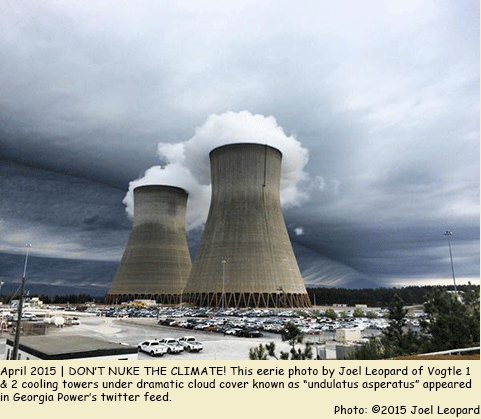 ---
STAND UP FOR THE SAVANNAH RIVER
Nuclear Water Hog is Not Needed by Georgia Power,
EPD Must Deny Water Permit for Vogtle 3 & 4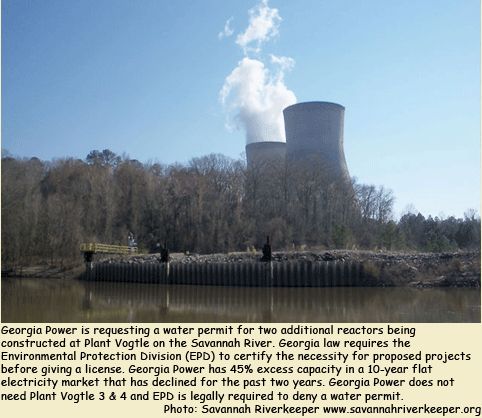 WAYNESBORO, 5/8/14: Georgia Environmental Protection Division (EPD) held a public hearing in response to requests from several parties, including Nuclear Watch South on Southern Nuclear's (division of Southern Company) massive water withdrawal permit request for Georgia Power reactors at Nuclear Plant Vogtle in Burke County, Georgia.
Concerned environmentalists converged from around the state with a long list of concerns about the negative impacts and gargantuan consumption Plant Vogtle would add to the already drought-stressed Savannah River.
Nuclear Watch South's focus is on recent economic analysis showing that Georgia Power, chief owner and operator of the proposed additional Vogtle reactors, is significantly overbuilt with 45% unused capacity, exacerbated by its10-year flat electricity sales trend. Sales have steadily dropped in 2010-2013, the years the reactors have been under construction following Georgia Public Service Commission (PSC) approval for the project. The analysis is derived from Georgia Power annual report data submitted to the U.S. Securities and Exchange Commission under strict standards for accuracy and truthfulness.
According to Georgia Legal Code,* EPD is required to consider whether water withdrawals are "reasonably necessary" to meet the applicant's needs. Since Vogtle 3&4 are not needed, Georgia Power therefore does not need to use water from the Savannah River's and EPD should deny the permit.
Glenn Carroll, coordinator of Georgia-based environmental organization Nuclear Watch South says, "Georgia Power's own data show that sales have gone down, not up, for the 11-year period from 2002 to 2013. Georgia Power's 4% annual growth forecast used to justify constructing two additional reactors at Vogtle has not materialized. Georgia Power is 45% overbuilt and in a protracted sales slump.
"Georgia Power does not need additional electric supply from Plant Vogtle and Georgia law requires EPD to deny the permit for projects that the applicant do not need," she concludes.
EPD is in an important position to balance factors which call into question continuing construction of the $17 billion dollar nuclear project which recently received $6.5 billion in unsecured loans from the U.S. Treasury via a 'loan guarantee' from the U.S. Department of Energy (DOE). The PSC approved Georgia Power's project request based on Georgia Power forecasts of 4% annual sales growth without the benefit of recent analysis which reveals flat sales. The historic three-year decline occurred after the PSC's necessity certification of Vogtle in 2010. In 2009, the Georgia General Assembly passed the controversial nuclar CWIP tax (Construction Work in Progress) which Georgia Power charges on its bills as "Nuclear Construction Cost Recovery." The compliant PSC, captive ratepayers and CWIP were cited by DOE as securing the loan guarantee.
Carroll says, "EPD is empowered and obligated to protect the Savannah River from dire consequences of over-use. In denying the permit to a gargantuan, unnecessary project EPD will also save Georgia ratepayers and U.S. taxpayers from squandering billions of dollars more public funds on an unneeded nuclear water hog."
EPD has given preliminary approval to Southern Nuclear's request. There are myriad reasons that the application and review for the proposed water permit are deficient including the apparent failure to look comprehensively at Savannah River usage along its length or at the cumulative impacts over the decades-long operating life of the two additional reactors. A protracted, historic drought and multiple "water wars" with neighboring states make Georgia's water use highly controversial. South Carolina's Department of Health and Environmental Control has previously filed comments with EPD stressing lack of drought consideration and potential for depletion of necessary oxygen in the river water.
GROUPS REPRESENTED AT THE HEARING: Blue Ridge Environmental Defense League (BREDL) * Center for a Sustainable Coast * Concerned Citizens of Shell Bluff * Georgia Chapter of the Sierra Club * Georgia Women's Action for New Directions (Georgia WAND) * Nuclear Watch South * Savannah Riverkeeper * Southern Alliance for Clean Energy * Southern Environmental Law Center * Emory's Turner Environmental Law Clinic
---
* OCGA 12-5-31(g)
The division shall take into consideration the extent to which any withdrawals, diversions, or impoundments are reasonably necessary, in the judgment of the director, to meet the applicant's needs and shall grant a permit which shall meet those reasonable needs; provided, however, that the granting of such permit shall not have unreasonably adverse effects upon other water uses in the area, including but not limited to public use, farm use, and potential as well as present use; and provided, further, that the director shall grant a permit to any permit applicant who on July 1, 1977, has outstanding indebtedness in the form of revenue certificates or general obligation bonds which are being amortized through the sale of surface water, the permitted quantity of which shall be at least in an amount consistent with that quantity for which the revenue certificates or general obligation bonds were issued.

BACK TO STORY
---
Federal Government Backs 6.5 Billion Dollars in Loans for Plant Vogtle
WAYNESBORO 2/20/14: U.S. Secretary of Energy Ernest Moniz came down to Georgia to sign off on giving 6.5 billion in taxpayer dollars to Southern Company, its subsidiary Georgia Power, and Oglethorpe Power to build two nuclear reactors at Plant Vogtle near Augusta.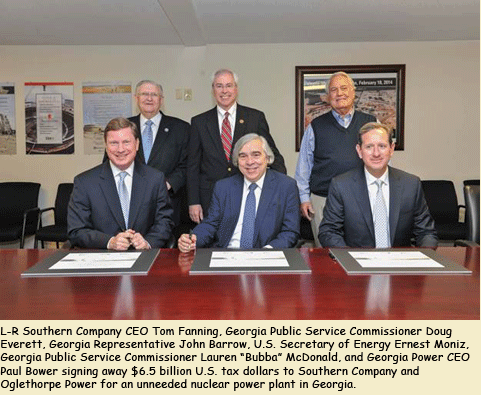 MEAG (Municipal Electric Association of Georgia), 22.7% owner of Vogtle is seeking 1.8 billion dollars in a separate loan guarantee and has a July closure deadline.
The terms of the loan are secret, but Southern Company has divulged to the media that it has put up collateral for the massive loan — namely, the unfinished Vogtle 3 and 4 reactors.
The relatively obscure loan guarantee program goes like this: Wall Street wouldn't underwrite risky nuclear energy development, so erstwhile President George W. Bush persuaded U.S. Congress to pass a bill allowing the U.S. Department of Energy (DOE) to give "loan guarantees" to jump start construction of a new generation of nuclear reactors.  These loan guarantees are direct payouts from the U.S. Treasury.
Troublingly, there is an historic 50 percent default rate in the loan guarantee program.
As the so-called "Nuclear Renaissance," which was touted in the late Bush years, shriveled, Southern Company has become one of only two utilities in the country even attempting new reactors, and Southern Company became the sole candidate requesting loan guarantees.
Southern Company's loan was first announced by President Barack Obama in 2010.  Four years passed, in which Vogtle, less than half-finished, has gone 1.6 billion dollars over budget and 21 months behind schedule.
U.S. citizens have sent literally tens of thousands of letters and petitions to Obama and DOE demanding that the loan guarantees be withdrawn.
Southern Company has said repeatedly that it does not even need the loan guarantees.
The loan had been hung up for so long, reportedly, because Southern Company balked at the terms which amounted to an unbelievably low interest rate, an upfront "credit subsidy fee" of only 0.5-1.5 percent.
However, because the loan guarantee terms are secret, it is not known if Southern Company actually ended up paying anything at all to use taxpayer money.
We do know that DOE gave weight to Southern Company's "captive ratepayers" and the Georgia Public Service Commission's generously allowing electric customers to be taxed up front for Vogtle construction costs in a financing mechanism called Construction Work in Progress (CWIP).
Sara Barczak, high-risk energy choices program director for Southern Alliance for Clean Energy, calls it "corporate welfare for one of the largest power companies in the country."
Recent analysis of Georgia Power annual report data shows that Georgia Power is not even using 46 percent of its electrical production capacity, has suffered flat sales for ten years years, and has posted declining sales the past three years.
This gives rise to real concern whether Southern Company, Georgia Power, Oglethorpe Power and MEAG can sell enough electricity to pay back their hefty loan from U.S. taxpayers.
"This loan guarantee is a sweetheart deal for the utilities building Plant Vogtle. Essentially, they're gambling with every U.S. taxpayer's dollars to unnecessarily expand one plant here in Georgia." Becky Rafter, executive director of Georgia Women's Action for New Directions, said.
---
VOGTLE NOT NEEDED: Nuclear Watch South tells PSC "Cheaper to cancel than complete"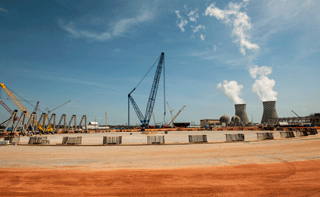 10/15/13 ATLANTA: Nuclear Watch South conducted its first-ever intervention before the Georgia Public Service Commission in opposition to the two-reactor expansion of Plant Vogtle. The cost of the reactors has rapidly risen from $14.3 billion to more than $16 billion as the schedule has slipped by 18 months, possibly more. An economist working with Nuclear Watch South found that the Vogtle expansion is not needed, the cost of Vogtle is too high, and it would be beneficial to Georgians to absorb the sunk costs and cancel the project.
Nuclear Watch South presented expert testimony by Steven C. Prenovitz in the 8th Vogtle Construction Monitoring Review (VCMR). This is the first time an intervening citizens' group presented an expert witness in four years of semi-annual Vogtle expansion construction reviews which are typically dominated by witnesses from Georgia Power and the PSC's Public Advocacy Staff (PIA).
Prenovitz, a trained economist, compiled and analyzed Georgia Power data from the company's annual reports for the years 2002-2012. In direct testimony, he asserted, "Georgia Power forecasts were for 4.1% growth in capacity, but in the key five-year period that coincides with the Vogtle expansion, capacity growth was 2.4%. Because Georgia Power's capacity utilization factor declined from 73% to 54% in the same period, it is clear that expanding Vogtle's capacity was not, and is not now needed."
In the 8th VCMR public hearings, Georgia Power challenged Nuclear Watch South's position that Plant Vogtle expansion should be scuttled claiming cancellation was out of the scope of the proceeding, However Georgia O.C.G.A. § 46-3A-6 clearly charges the Public Service Commission with ongoing consideration of whether to cancel or continue construction of additional capacity and empowers the Commission to revoke or modify any project's certificate.
Prenovitz's Georgia Power Key Financial and Operating Data Chart constructed from 11 years of Georgia Power annual reports shows that Georgia Power's sales are flat over a 10-year period while its capacity utilization has dropped from 71% to 54%. The data published by Georgia Power in its annual reports is required by the SEC. Prenovitz is the first expert to compare the data and produce an historical trend of Georgia Power's performance and market indicators.
Prenovitz also examined the costs of Plant Vogtle expansion into a chart entitled Georgia Power Vogtle Budget/Break Even Data and found the cost is escalating towards an amount that exceeds the total holdings of Georgia Power ($19 billion) while only promising to add 6% capacity overall. The conclusion is overwhelming that Vogtle's expanded capacity is not needed by Georgia Power and not affordable by Georgia ratepayers.
Nuclear Watch South Coordinator Glenn Carroll commented, "Prenovitz's findings provide hard evidence, with Georgia Power's own data, that Plant Vogtle is too expensive by any measure, and unneeded. Georgia ratepayers are best served by the cancellation of additional reactors at Plant Vogtle."
The issues that Georgia Power brought before the PSC were: 1) recovery of $209 million in construction costs in the last half of 2012; and 2) increase of $381 million in certified capital costs for the project. Nuclear Watch South challenged both requests, along with several other interveners, including Georgia Watch and the Southern Alliance for Clean Energy and multiple public witnesses. There was much discussion and cross-examination concerning a recent decision by the Mississippi PSC forcing Mississippi Power, another Southern Company subsiciary, to absorb $457 million in costs overruns at a coal plant under construction in Kemper, MS. To sidestep a similar decision in Georgia, Georgia Power and PSC Public Advocacy Staff entered into a stipulation which has the effect of deferring vigorous scrutiny of Vogtle expansion costs until Vogtle 3 may be completed far in the future. In a blatant affront to public process, the stipulation was approved by the PSC without proper public notice and outside of the published schedule for the proceeding. The PSC staff advised the Commissioners to adhere to the schedule but the Commission ignored its staff's advice and voted unanimously to adopt the stipulation on September 3, 2013, a fact which Nuclear Watch South learned in a newspaper report.
Nuclear Watch South was the only intervenor to filed proposed conclusions September 27, 2013, a vital part of the process in which the various parties may package information to help the Commission make its decision scheduled for October 15, 2013. In its brief, Nuclear Watch South called for Vogtle cancellation, and went on to make arguments against cost recovery, increased capital cost certification, and the stipulation.
"Citizen intervenors have done Georgia ratepayers a great service in reframing scrutiny of the exorbitant Vogtle project and proving it is not needed. With $4 billion to $6 billion still left to be spent, it is obvious it would be cheaper to abandon construction of two additional reactors," says Carroll.
"There has never been a clearer need for the PSC to exercise its authority to protect Georgia ratepayers," she concluded.
---
OOPS! GA Power drops the Vogtle pressure vessel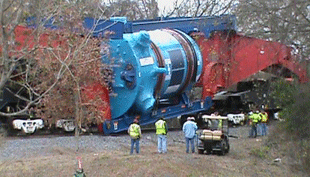 SAVANNAH 1/31/13: Days after Georgia Power circulated a news story bragging about the arrival of the 300-ton Korean-made reactor pressure vessel for Vogtle, an anonymous source leaked the news that Georgia Power had almost rolled the massive reactor pressure vessel into an alligator swamp en route from the Port of Savannah to the Vogtle construction site near Augusta, Georgia. The reactor vessel platform misaligned with the lauded Schnaebel rail car 1/4 mile from the Port of Savannah and the load has languished in the port railyard ever since.
The embarrassing news circulated and NUCLEAR WATCH SOUTH activists joined the Stop Plant Vogtle coalition to make sure the Public Service Commission knew about it with an impromptu performance of Georgia Power Choo Choo. Two weeks prior, dozens of citizens had jammed the PSC's public hearing room to protest cost overruns and CWIP taxes for the $14.2 billion (and mounting) nuclear construction project, unaware that Georgia Power was actively covering up their rail mishap.
Read more about it on Friends of the Earth's TOM CLEMENTS blog.
---
Nuclear Watch South joins legal opposition to license for two new reactors in Georgia
Groups contend that NRC failed to fully consider Fukushima lessons before issuing license to construct and operate two new nuclear reactors
2/17/12: ATLANTA, GA The Nuclear Regulatory Commission (NRC) voted 4-1 on February 9, 2012, to issue the final license for two new reactors at the site of the currently operating Vogtle nuclear power plant in Georgia. NRC Chairman Gregory Jaczko cast the only dissenting vote, effectively agreeing with nine national, state and regional groups who will file a challenge in federal court.
A major legal challenge has been filed charging the NRC with violating federal law to issue the license without considering the important lessons of the catastrophic Fukushima accident in Japan and regarding the ways the Vogtle operation should be modified to protect public safety and the environment. The groups are asking federal judges to order the NRC to prepare a new environmental impact statement (EIS) for the proposed Vogtle reactors that explains how cooling systems for the reactors and spent fuel storage pools will be upgraded to protect against earthquakes, flooding and prolonged loss of electric power to the site. The EIS must also detail how emergency equipment and plans for the nuclear plant will be revised to account for accidents affecting multiple reactors on the Vogtle site, as happened at Fukushima.
As part of the action, the organizations are also challenging the validity of the Westinghouse-Toshiba AP1000 design, on which the new Vogtle reactors are based.
"It is terribly irresponsible of the NRC to rush this risky reactor project through even as Japan continues to grapple with the unstable condition of the wrecked Fukushima reactors," says Nuclear Watch South Coordinator Glenn Carroll. "There are many concerns with nuclear energy even beyond those raised by the Fukushima catastrophe. We hold out hope that Southern Company and Georgia Power may yet come to their senses to recognize the tangible successes of wind and solar power and decide to abandon dead-end, out-moded nuclear power.
"After all, Southern Company has not invested a dime of its own money so far, so they have nothing to lose and everything to gain if they choose to install solar panels on all that land they've already cleared," Carroll concludes.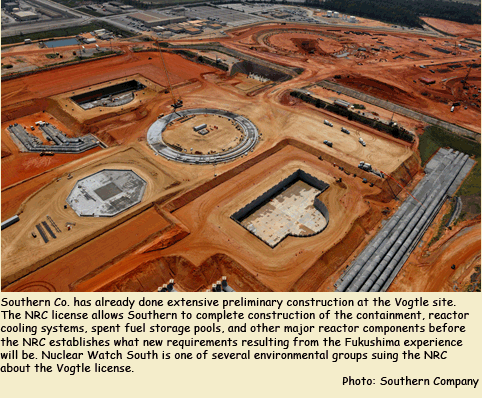 The organizations filed their lawsuit in the U.S. Court of Appeals for the District of Columbia Circuit. The nine organizations taking the legal action are: Friends of the Earth, the Southern Alliance for Clean Energy, Blue Ridge Environmental Defense League, Center for a Sustainable Coast, Citizens Allied for Safe Energy, Georgia Women's Action for New Directions, North Carolina Waste Awareness and Reduction Network, Nuclear Information and Resource Service and Nuclear Watch South.
Although Southern Co. has already commenced extensive preliminary construction activities at the Vogtle site, the license would allow Southern to complete construction of the containment, reactor cooling systems, spent fuel storage pools, and other major reactor components.
The organizations charge that these major structures could change substantially if they are redesigned to take the lessons of the Fukushima accident into account, and therefore continued construction of the new Vogtle reactors could be wasting money and resources. And if the license is disapproved in the lawsuit or Fukushima-related retrofits make the project too expensive to finish, utility ratepayers in Georgia are likely to be stuck with the expense of a large and useless concrete mausoleum, similar to many other abandoned reactor projects across the U.S.
Separately, Southern Alliance for Clean Energy has sued the Department of Energy for failing to disclose key information about the terms of DOE's $8.3 billion loan guarantee for the new Vogtle reactors, especially the risk posed to U.S. taxpayers should the estimated $14 billion project default. The organizations remain very concerned that utility customers and taxpayers have been forced to put more "skin in the game" than Southern Co. and its utility partners and shareholders. With prices of natural gas very low, even the CEO of Exelon has said publicly that he wouldn't build a nuclear plant today.
MEDIA CONTACT: Glenn Carroll, Nuclear Watch South, 404-378-4263, atom.girl@mindspring.com
---
NUCLEAR WATCH SOUTH COORDINATOR ON DEMOCRACY NOW!
Anti-Nuclear Activists Mobilize to Oppose
Obama-Funded Construction of Georgia Nuke Plants
DEMOCRACY NOW! (2/24/10) The news in Vermont follows Obama's announcement last week of $8.3 billion in loan guarantees for the construction of the first new nuclear power plants in the United States in close to three decades. The loan guarantees will help the Atlanta-based Southern Company build two more nuclear reactors in Burke County, Georgia, near the city of Augusta. We speak to Nuclear Watch South coordinator Glenn Carroll, who has been leading efforts against the construction of the new plants.
ALSO ON DEMOCRACY NOW! Nuclear engineer Arnie Gundersen speaks about the historic vote to shut Vermont Yankee and the cover-up of an underground plume of radioactive tritium heading for the Connecticut River. Arnie's stunning and informative interview with Amy Goodman begins at the 10:30 mark.
---
"RADIOACTIVE RIP-OFF"
Tax-Funded Nuclear Bailout for Southern Company
OBAMA SAYS $8.3 BILLION IN NUCLEAR LOAN GUARANTEES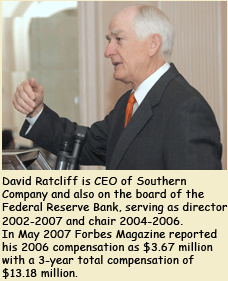 ATLANTA (2/16/10) ~ The "Nuclear Renaissance" promoted by Bush's last administration reached a controversial milestone today with President Obama and Energy Secretary Chu's much-anticipated announcement that $8.3 billion in tax-funded loan guarantees will be granted to Southern Company to construct two new reactors in Georgia. The reactors are proposed in addition to the two reactors already at Plant Vogtle in Burke County on the Savannah River near Augusta. Southern Company has not said that it will take the deal. Loan guarantee details were worked out in closed-door meetings between the U.S. Department of Energy and privately-owned electricity giant Southern Company.
Glenn Carroll, coordinator of Georgia-based environmental group Nuclear Watch South expressed dismay about the nuclear loan guarantees announcement. "It is a giant radioactive rip-off for Georgians and the U.S. taxpayers to promise our money for nuclear reactors. Radioactive risk and radioactive waste are the only promises that nukes can be counted on to keep."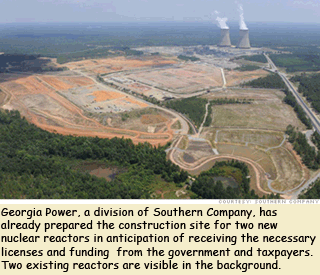 Despite Obama's announcement, Southern Company will not qualify to receive the tax-funded loans until it obtains a license to build the reactors from the U.S. Nuclear Regulatory Commission (NRC). The license is opposed by several environmental groups. Southern Company has resisted using union labor, a possible loan guarantee condition which may drive up already high estimates for the reactors. The loan guarantees are also contingent upon NRC approval for the Vogtle reactor design. A generic license for the Westinghouse "AP 1000" reactor design which Southern Company proposes for the Vogtle site is being questioned by the NRC over safety concerns. The Westinghouse design has downgraded the typical robust concrete "containment building" to a much less substantial "shield building" made from stacked concrete blocks.
NO POISON POWER NEEDED HERE!
It will be a shame if Southern Company misses out on the green energy revolution because it is blinded by promises of easy money to pursue antiquated nuclear energy.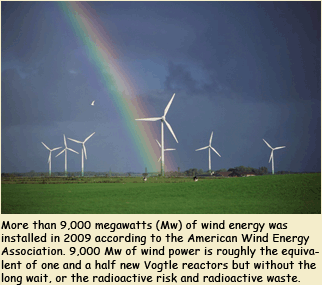 The new nuclear reactors are part of a federal energy legislation package which attempts to address climate change. There are hopeful trends which may yet offset the need for new reactors which take many years to license and construct. Energy Department figures from the third quarter 2009 saw renewables surpass nuclear's contribution to the total energy picture for the first time. The American Wind Energy Association reports that close to 10,000 Mw of new wind power joined the grid in 2009 — that's ALOT of clean power especially when you consider it would take the better part of a decade to install new nuclear energy. In addition, U.S. energy consumption habits have finally begun to shift and Southern Company predictions for energy need are not likely to materialize as it, too, has reported a downturn in electric sales for the past two years (the first time ever that sales have dropped for two years in a row).
"Loan guarantees for nuclear reactors are short-sighted," says Ms. Carroll. "We predict that while we are waiting for nuclear energy to get itself ready, forward-thinking efficiency measures and small-scale installations of wind and solar which are joining the grid every day will transform the energy landscape and offset the need for more radioactive poison power. It will be a shame if Southern Company misses out on the green energy revolution because it is blinded by promises of easy money to pursue antiquated nuclear energy."