NUCLEAR WATCH SOUTH | TRIDENT
Beyond Trident Campaign Launched in Georgia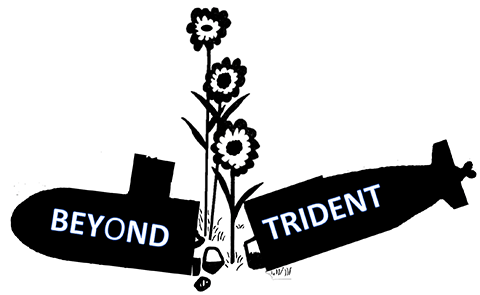 BRUNSWICK, GA 4/4/20 Local activists Robert Randall, Roxane George, Teresa Berrigan Grady and Sarah Cool have been meeting with local and statewide citizen activists to launch a new campaign to bring increased awareness to the impact of Kings Bay Trident nuclear submarine base on the coastal Georgia environment and economy.
The Beyond Trident Campaign aims to resist U.S. Navy plans to expand and modernize Kings Bay to accommodate a new, larger submarine fleet as part of the U.S. instigation of a new global nuclear arms race.
The Beyond Trident Campaign mission is to abolish nuclear weapons and power by focusing on the intersections between racism, militarism and excessive materialism. The purpose is to change hearts and minds in order to generate active resistance to nuclear weapons in south coastal Georgia. The Beyond Trident Campaign will work to ensure that the community conversations about nuclear weapons that have been inspired by the actions of the Kings Bay Plowshares 7 will continue and expand into support for a nuclear ban.
Beyond Trident aims to increase and support the involvement of activists and community members in Camden County, where the base is located, and in Glynn County, where most of the activities related to the Kings Bay Plowshares 7 have taken place. A related goal is to encourage people in Camden County to think about ways to diversify the local economy, which was not always dependent on Kings Bay Naval Base. Beyond Trident intends to provide people in both Glynn and Camden Counties with information and tools to urge their elected officials to support the Treaty on the Prohibition of Nuclear Weapons and to oppose the U.S. nuclear weapons modernization currently underway.
Beyond Trident will work to create bridges between groups and issues to increase local understanding of the intersections between racism, militarism and extreme materialism.
---
Kings Bay Plowshares 7 Historic Action Targets Georgia Trident Nuclear Submarine Base
Catholic peace activists confront nuclear weapons and U.S. militarism on 4/4/18 in observance of 50 year anniversary of Martin Luther King's murder
BRUNSWICK, GA 6/9/19 Seven Catholic plowshares activists entered Kings Bay Naval Submarine Base in St. Mary's, Georgia on April 4th, 2018.  They went to make real the prophet Isaiah's command to "beat swords into plowshares."
The Kings Bay Plowshares 7 (KBP7), chose to act on the 50th anniversary of the assassination of the Rev. Dr. Martin Luther King, Jr., who devoted his life to addressing what he called the "triple evils of militarism, racism and materialism." Carrying hammers and baby bottles of their own blood, the seven attempted to convert weapons of mass destruction. They hoped to call attention to the ways in which nuclear weapons kill every day, by their mere existence and maintenance.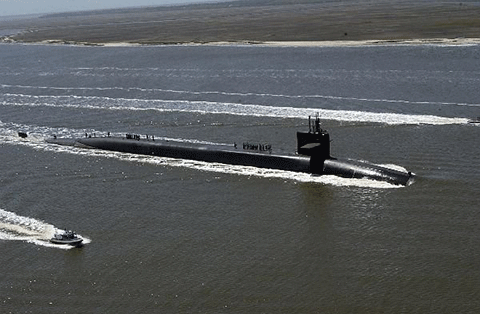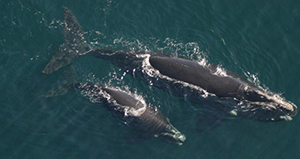 Kings Bay Naval base opened in 1979 as the Navy's Atlantic Ocean Trident port.  The largest nuclear submarine base in the world, President Jimmy Carter, a former submariner, used his influence to have the base sited in his home state of Georgia. The St. Mary's Sound where the five-story tall, 200-yard long submarines are based is the only known calving area for the endangered right whale. There are six ballistic missile subs and two guided missile subs based at Kings Bay. Each Trident submarine carries enough nuclear weapons to qualify as the third largest nuclear power on Earth.
The activists went to three sites on the base: The SWFLANT administration building, the D5 Missile monument installation and the nuclear weapons storage bunkers.  The activists used crime scene tape, hammers and hung banners reading: "The ultimate logic of racism is genocide - Dr. Martin Luther King", "The ultimate logic of Trident is omnicide" and "Nuclear weapons: illegal / immoral." They also brought an indictment charging the U.S. government for crimes against peace.
| | | |
| --- | --- | --- |
| | | |
| Liz McAlister | Fr. Steve Kelly, SJ | Carmen Trotta |
The activists at the nuclear weapons storage bunkers were Elizabeth McAlister, 78, of Jonah House, Baltimore; Fr. Steve Kelly SJ, 69, of the Bay Area, California; and Carmen Trotta, 55, of the New York Catholic Worker. Elizabeth "Liz" McAlister is the widow of famed founder of the Plowshares Movement, Philip Berrigan. Father Steve Kelly participated in a similar action at the west coast Kitsap Trident base in Bangor, WA, in 2009.
| | | | |
| --- | --- | --- | --- |
| | | | |
| Clare Grady | Martha Hennessey | Mark Colville | Patrick O'Neill |
At the Strategic Weapons Facility Atlantic Administration building were Clare Grady, 59, of the Ithaca Catholic Worker; and Martha Hennessy, 62, of the New York Catholic Worker. At the Trident D5 monuments were Mark Colville, 55, of the Amistad Catholic Worker, New Haven, Connecticut; and Patrick O'Neill, 61, of the Fr. Charlie Mulholland Catholic Worker, Garner, North Carolina. Martha Hennessey is the granddaughter of Catholic Worker founder Dorothy Day who is being considered for canonization.
Still incarcerated in Brunswick, Georgia, at the Glynn County Detention Center are Mark Colville, Liz McAlister and Father Steve Kelly. The other four Plowshares activists are under house arrest and forced to wear ankle monitors. The KBP7 will have their arguments for Religious Freedom Restoration Act defense heard in federal court in Brunswick on August 7, 2019.
This is the latest of 100 similar actions around the world beginning in 1980 in King of Prussia, Pennsylvania.
---

DISARM TRIDENT
SAVANNAH TO KINGS BAY PEACE WALK
SEPTEMBER 3-14, 2018

SUPPORT KINGS BAY PLOWSHARES 7
FOR MORE INFO SEE VETERANS FOR PEACE
OPEN LETTER FROM PATRICK O'NEILL
Patrick O'Neill is the father of eight children, and is the cofounder of the Fr. Charlie Mulholland Catholic Worker House in Garner, NC. He is one of the Kings Bay Plowshares 7 which committed civil disobedience at the Trident Base on April 4, 2018. He is awaiting trial in Brunswick, GA.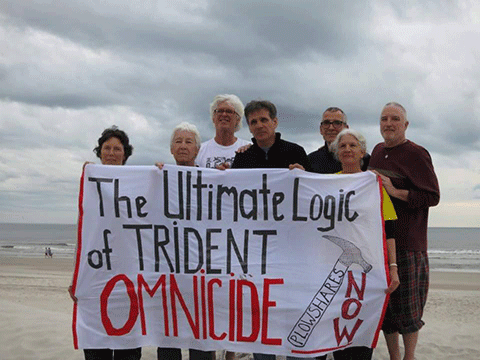 The Kings Bay Plowshares 7 are, from left: Clare Grady, Elizabeth McAlister, Patrick O'Neill, Carmen Trotta, Father Steve Kelly, Martha Hennessey and Mark Colville.
ST. MARYS, GA -- Among the small cadre of peace activists living in Camden County, Georgia, few are willing to endure the scorn — or worse — of their friends and neighbors should they publicly profess their support for the Kings Bay Plowshares, the group of seven Roman Catholic pacifists who on April 4, 2018 entered the Trident submarine base and hammered on a few idols. So it goes.
In the three-plus decades since President Jimmy Carter brought Trident to southeast Georgia, the Navy base has been welcomed by the Camden County community and beyond.
We are so unpopular that my first cousin who lives in Jacksonville, FL, told my wife that she was afraid to visit me in the Camden County jail because the FBI might ask her questions if she did. 
So what gives? Why did the seven of us leave our friends and families behind to risk jail and prison? Since Trident is almost without opposition, we were compelled by our Catholic faith to come to St. Marys on the 50th anniversary of Georgia native Martin Luther King Jr.'s assassination to warn the world about the dangers of Trident. 
One Trident submarine carries a payload of D-5 nuclear missiles that could end life as we know it. Trident is literally a diabolical doomsday machine embraced by most Americans as virtuous and godly.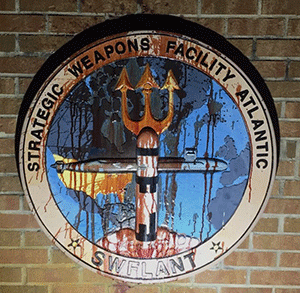 Such unquestioning assent to these weapons of mass destruction is idolatry of the most dangerous kind. The D-5 is a weapon of mass idolatry. Our action is a wake-up call to Georgians and to the nation that Trident is not proper to life and must be disarmed. Humanity is in a race against time. Either we abolish nuclear weapons or their eventual use will abolish us. The risk of nuclear weapons being deployed — whether by accident, computer hacking or in war — has become an "acceptable risk" for our world.
Disaster almost struck on Sept. 26, 1983, when a Soviet command center for the Oko nuclear early-warning system erroneously reported a nuclear missile had been launched from the United States, followed by up to five more. It was only the cautious response by Soviet Air Defense Forces Lieutenant Colonel Stanislave Yevgrafovich Petrov, who suspected a computer error was to blame, that prevented a "retaliatory" nuclear attack on the United States. Petrov, who died May 19, 2017, became known as "the man who single-handedly saved the world from nuclear war."
This is madness. Nuclear weapons are risky death-dealing props disguised as deterrents. The U.S. deploys them and, like other nuclear powers, we train our military personnel to launch them without question when ordered to do so.
This is our peril every second of every day. Worse, our WMDs represent our willingness as a nation to inflict horror of an untold magnitude on our fellow humans.
So, Elizabeth McAlister, 78 - grandmother and widow of iconic peace prophet, Philip Berrigan; Martha Hennessy, 63; granddaughter of Dorothy Day, a 20th century Catholic pacifist who will likely be canonized by the Catholic Church; Fr. Stephen Kelly, S.J., 69, who like Pope Francis, is a Jesuit priest; and Catholic Workers Clare Grady, 59; Carmen Trotta, 55; Mark Colville, 56; and myself, sit and wait for our chance to put Trident on trial in federal court.
Trident is illegal under international law because treaties, which the U.S. has signed, prohibit the manufacture and deployment of WMDs [Weapons of Mass Destruction]. Pope Francis recently said, the "very possession" of nuclear weapons is to be "firmly condemned." Christians are called to love their enemies.
Today, the Bulletin of Atomic Scientists "Doomsday Clock" stands at two minutes, 30 seconds to midnight, the closest it's been to Armageddon in more than 50 years.
Like lemmings hurtling to the sea, we humans act as if "nuclear posing" is the only way to insure peace for our children and grandchildren. Distracted by this presumption, we ignore the greatest threat to human survival: our world on nuclear hair-trigger alert.
The Kings Bay Plowshares, acting on the words of the Old Testament prophet Isaiah, decided to "beat swords into plowshares." (Isaiah 2:4) Our actions were a minor transgression of the law, yet we are facing three felony charges, one misdemeanor and likely prison sentences. The court is protecting Trident, and leaving us all dangerously vulnerable to nuclear attack.
Let us recall the prescient words of Dr. King: "The choice is no longer between violence and nonviolence, it is either nonviolence or non-existence."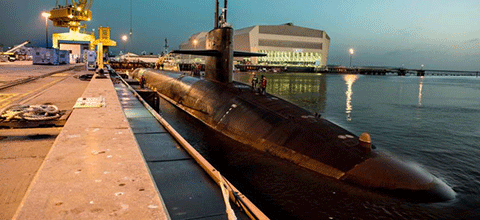 Kings Bay is the home for the Navy's Atlantic-based nuclear-powered Trident submarines armed with ballistic, or guided, nuclear missiles.