NUCLEAR WATCH SOUTH | RADIATION + HEALTH
NO SAFE LEVEL OF RADIATION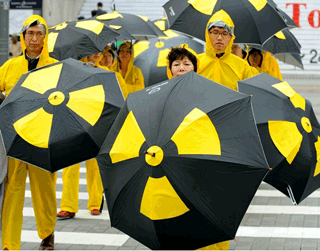 Every U.S. agency that regulates radiation exposure agrees that there is no safe dose no matter how small. There are only "allowable" doses or "legally permitted doses." Today radiobiologists all agree that "one can no longer speak of a 'safe' dose level." (Ian Fairlie & Marvin Resnikoff, "No dose too low," The Bulletin of the Atomic Scientists, Nov/Dec 1997, p. 54)
Following are the official U.S. government assessments:
National Council on Radiation Protection
Every increment of radiation exposure produces an incremental increase in the risk of cancer.
National Council on Radiation Protection, "Evaluation of the Linear-Non-threshold Dose-Response Model for Ionizing Radiation," NCRP report 136, Bethesda, MD, June 4, 2001, cited in Science for Democratic Action, IEER, June 2005
U.S. Environmental Protection Agency
Current evidence suggests that any exposure to radiation poses some risk, i.e. there is no level below which we can say an exposure poses no risk.
U.S. EPA, "Radiation Protection: Health Effects"
U.S. Department of Energy
The effects of low levels of radiation are more difficult to determine because the major effect is a very slight increase in cancer risk. However, U.S. Government regulations assume that the effects of all radiation exposures are cumulative and should be limited as much as reasonably possible.
DOE/NE-0074, "Understanding Radiation," p. 8 & 9.
U.S. Nuclear Regulatory Commission
The radiation protection community conservatively assumes that any amount of radiation may pose some risk for causing cancer and hereditary effect, and that the risk is higher for higher radiation exposures. A linear no-threshold dose-response relationship is used to describe the relationship between radiation dose and the occurrence of cancer. … any increase in dose, no matter how small, results in an incremental increase in risk.
U.S. NRC, "Radiation Exposure and Cancer"
National Academy of Sciences
The National Academy of Science's ... committee further judges it unlikely that a threshold exists for the induction of cancers.
National Academy of Sciences, "Health Risks from Exposure to Low Levels of Ionizing Radiation: BEIR VII, Phase 2," Committee to Assess Health Risks from Exposure to Low Levels of Ionizing Radiation, National Research Council, June 29, 2005