ABOUT NUCLEAR WATCH SOUTH
Nuclear Watch South
Working to End the Nuclear Age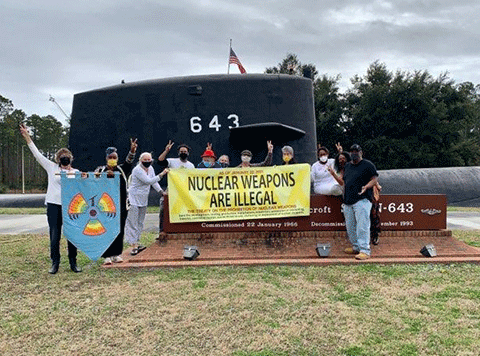 ST. MARYS, GA 1/22/21: Nuclear Watch South celebrates the beginning of the end of nuclear weapons at the Kings Bay Trident nuclear submarine base in St. Marys, Georgia, with local groups Susie King Taylor Women's Ecology Institute, Coastal Black Women's Ocean Memory and Cultural Collective and Beyond Trident. The collective gathered during North Atlantic right whale calving season on the Georgia Coast to vigil at the base in support of the entry into force of international law of the U.N. Treaty on the Prohibition of Nuclear Weapons and to search for ways to support the critically endangered whale population.
When the U.S. navy constructed the massive submarine base on the fragile coast of Georgia, it was not known that Georgia waters are crucial habitat for the critically endangered right whale. An injured calf found on Little St. Simons Island in 1982 prompted deeper study and led to the belated realization that the Cumberland Sound where the base is sited is the primary calving and nursing waters for the mother whales and calves.
Kings Bay opened for business in 1989 with the commissioning of the USS Tennessee. The base deploys six nuclear-powered submarines and 25% of the U.S. nuclear arsenal. The weapons system is unmatched by any of the United States' rivals and costs trillions of taxpayer dollars. The Atantic Coast's shallow continental shelf requires frequent dredging to 100 miles from the coast so that the five-story tall nuclear-armed submarines may traverse to open water.
The groups are working with individuals and groups all over the country to stop a new nuclear arms race. Kings Bay began extensive renovation in March 2021, as the COVID pandemic was beginning, to be able to accommodate a new, larger, deadlier fleet of nuclear weapons.
We invite you to get involved and help Nuclear Watch South forge our peaceful future!
---
"NO NUKES Y'ALL!" shout heard 'round the world
nonukesyall.org receives global exposure via AP newswire
---
40 YEARS ~ "Better Active Today than Radioactive Tomorrow!"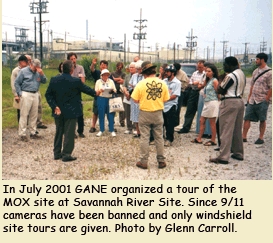 Nuclear Watch South was started as Georgians Against Nuclear Energy (GANE) in 1977 in opposition to Georgia Power plans to build nuclear reactors Vogtle and Hatch. In 2006, the name was changed to Nuclear Watch South to better reflect direct action campaigns on broader issues such as the Savannah River Site nuclear weapons complex on Georgia's border in South Carolina and the Kings Bay Base on the coast of Georgia. Today, the mostly volunteer, grassroots environmental group is still on the job working to shape nuclear policies and raise public awareness of nuclear weapons, nuclear reactors, and nuclear waste.
Nuclear Watch South is engaged in many significant campaigns, including the BEYOND TRIDENT campaign, stopping plutonium pit production at Savannah River Site and opposing new nuclear reactors at Southern Company's Vogtle site. Many tangible victories have been attained through the years resulting from the tough, savvy brand of direct action which is the Nuclear Watch South hallmark. Through public education, public testimony, citizen lobbying, legal intervention, street protest and civil disobedience Nuclear Watch South continues to spread the life-affirming message "NO NUKES Y'ALL!"
---
Democracy Now! on Tax-funded Loans for Vogtle
DEMOCRACY NOW! (2/24/10) The news in Vermont follows Obama's announcement last week of $8.3 billion in loan guarantees for the construction of the first new nuclear power plants in the United States in close to three decades. The loan guarantees will help the Atlanta-based Southern Company build two more nuclear reactors in Burke County, Georgia, near the city of Augusta. We speak to Nuclear Watch South coordinator Glenn Carroll, who has been leading efforts against the construction of the new plants.
---
NUCLEAR WATCH SOUTH MISSION
~ Phase out nuclear power and promote conservation and sustainable energy sources such as wind and solar
~ Halt the proliferation of nuclear materials and abolish the global threat of nuclear weapons
~ Promote the formation of ethical environmental policies for nuclear waste handling and containment
RECENT ACCOMPLISHMENTS
~ Organizing citizen action to Stop Plant Vogtle at the Georgia Public Service Commission and at the Georgia Legislature to repeal the Georgia Nuclear Energy Financing Act of 2009 which enables Georgia Power to charge a tax on customer power bills, forcing them to invest in the Vogtle 3 & 4 boondoggle.
~ Rocked the Bombplex at public hearings on building new nuclear weapons in Savannah River Site and Oak Ridge. Nuclear Watch South with other groups all over the country inspired an Environmental Impact Statement record — 120,000 public comments were submitted calling for nuclear disarmament!
~ Elicited Atomic Safety & Licensing Board ruling on nuclear terrorism (in 2001) which provided cornerstone for the Ninth Circuit precedent requiring the effects of terrorism or insider sabotage to be analyzed in an Environmental Impact Statement.
~ Organized "Plutonium Beach Watch" action camp on Sullivan's Island, SC, with students from nearby College of Charleston to track and document barges and trucks transporting weapons-grade plutonium MOX fuel from France to the U.S.
~ Permanently shut the Georgia Tech research reactor in downtown Atlanta. After GANE raised the issue prior to the 1996 Olympic Games, Georgia Tech's subsequent decision to permanently shut the reactor pre-shadowed the shutdown of 30 other campus research reactors around the country. The Georgia Tech reactor has now been decommissioned and shipped as radioactive waste to South Carolina and Utah.
Membership in Nuclear Watch South is absolutely free. You will receive action alerts and occasional mailings about important events and actions. Stay informed about issues, actions and events — together we will create a nuclear-free future!
Like all nonprofit environmental organizations, NUCLEAR WATCH SOUTH depends on tax-deductible contributions from people like you to keep up the work! Please send your tax-deductible donation via check or money order, or make a secure, on-line donation via PayPal:
NUCLEAR WATCH SOUTH
P.O. Box 8574
Atlanta, GA 31106
THANKS!!